Why is my Instagram account not appearing when I try to (re)connect it?
Having trouble finding your Instagram Professional account when adding your Profile to Sendible? Are you getting stuck in a loop when reconnecting with a 'Reauthorise' button?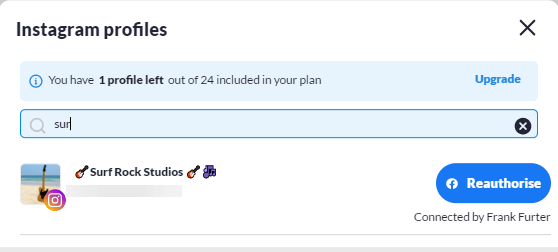 This article covers common reasons why your Instagram Professional Account (Business or Creator) is not appearing when adding or reconnecting an Instagram profile. To be able to post in Sendible, every Instagram Professional Account must be linked to Facebook Page, and there may sometimes be issues between Instagram and Facebook that can prevent successfully retrieving your Instagram account(s).
There are a few different reasons this can happen, so please go through the steps below in the order provided.
Note: As we update the messaging within Sendible to reflect the inclusion of Creator profiles, you may still see references to only 'Instagram Business'.
Check that the Instagram account is visible and selected in Facebook's Edit Settings window
The quickest way to normally resolve Instagram issues where you cannot add it is to make sure that your Instagram Professional profile appears and has been selected in Facebook's Settings window. Please try and add/reconnect the profile one more time, but when you get to Facebook's permissions window, choose the Edit Settings option on the left.

Tip: For the best results and the strongest connection, we always recommend choosing Select All for both the Instagram profiles and Facebook Pages.
Note: If you have selected the Instagram Professional account in Step 2 but do not select the Facebook Page it's connected to in Step 3, the Instagram account will not appear to add in Sendible.
If you do not see your Instagram Professional profile in Step 2, then there are some things you'll need to confirm on Facebook and within Business Manager before you'll be able to connect your Instagram account.
Confirm the Instagram/Facebook connection on Business Suite
After troubleshooting many scenarios, we can confirm that the Instagram account not appearing to add can happen for the following reasons
Instagram account has not been connected to a Facebook Page
Lack of necessary Admin permissions on the connected Facebook Page via Facebook or Meta Business Manager
Meta requires that the connection between Facebook and Instagram be confirmed in Business Suite
If you are certain that your Instagram account has been linked to your Facebook Fan Page and you can see it within the Facebook Page's Linked Accounts section, the next place you'll want to check is Business Suite - https://business.facebook.com/.
First, select the Facebook Page that's connected to your Instagram Business profile using the top-left dropdown. In this example, I am having difficulty connecting my Instagram account that's connected to the ShazSen Facebook Page.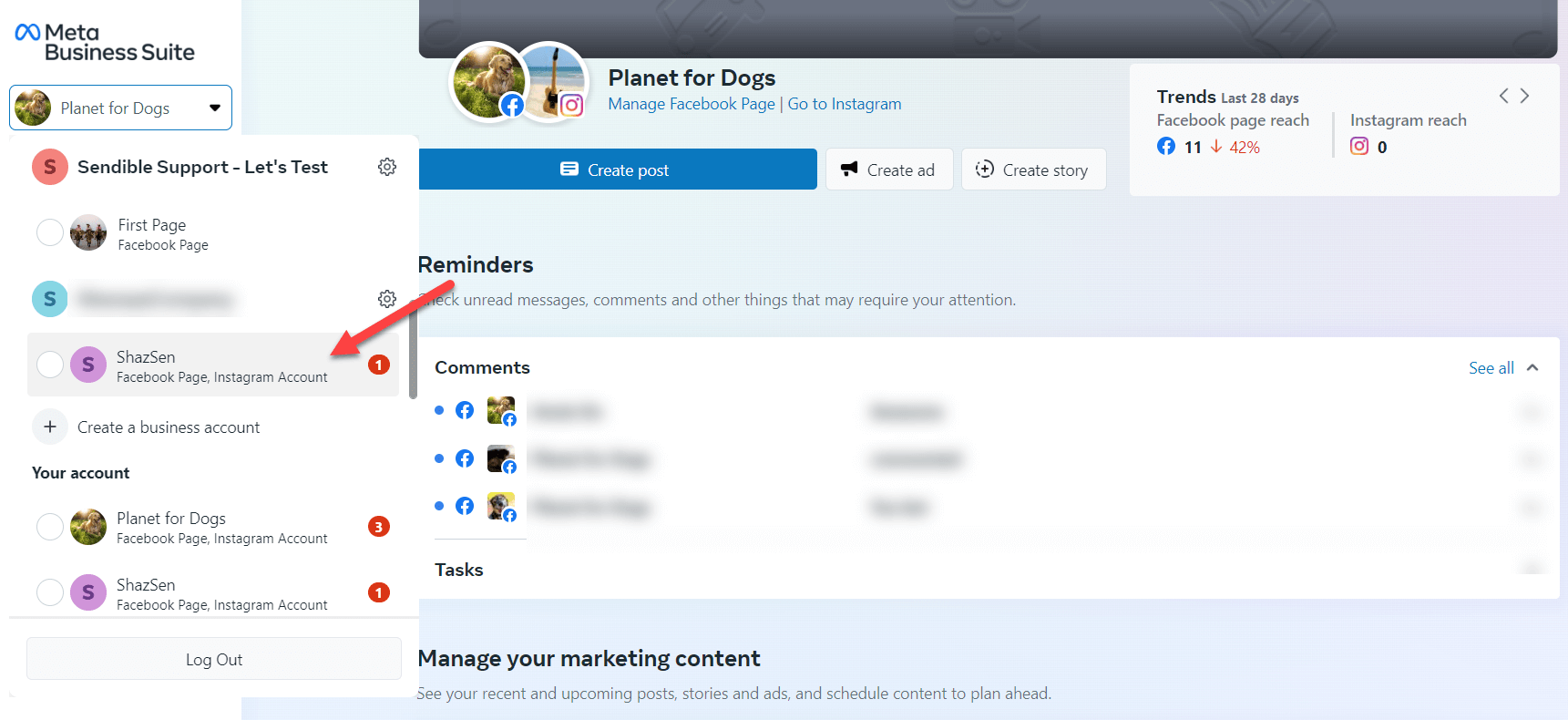 Next, you'll want to see if you are receiving this alert: Some features will be unavailable until you confirm that people who manage your Facebook Page can also manage your Instagram account. This flag is raised by Meta themselves and will need to be completed before you can add/reconnect your Instagram account in Sendible.

Note:
To be able to successfully confirm the connection between an Instagram account and a Facebook Page, you need to:
Be an Admin on the Meta Business Manager which owns the Page
Be an Admin on the Page itself for no less than 7 days
Have the login details for that Instagram account
When reviewing the connection, one of two things may happen depending on your status on Meta Business Manager.
If you are an Administrator on the Business Manager that owns this Facebook Page, you should be able to click through the steps, log in to the Instagram account, and finish the process
If you are not an Administrator on the Business Manager that owns this page, you'll get to a point where you are unable to finish the Connection Confirmation process:

If you hit this stopping point, you'll need to ask someone who is an Administrator on the listed Business Manager that owns this Page to complete this process. You can also click Send request, which should send them a notification to complete this.

Once the connection has been confirmed by an Admin of the Business Manager, please try to add/reconnect this Instagram Business profile in Sendible, and you should be successful!
If the above doesn't resolve the issue, move on to the steps below.
Additional troubleshooting steps
Try making someone else an Admin on the Facebook Page and re-add the account to Sendible using their logins.
Still an issue?
No worries! We can take it from here.
Please submit a support ticket and be sure to mention you have gone through the typical troubleshooting steps. In addition, providing screenshots and including where you were and the steps you took when the issue happened will help us resolve it more quickly!