1. Click the Bulk Import icon located just next to the Compose button on the top right hand side of the dashboard.
2. You can also access the option to bulk import posts on the Sent, Scheduled, Queued, Drafts, Calendar and Bounced views by selecting the More option and then Schedule in Bulk.
Using the Bulk Importer
3. The above window will be displayed. Click on the Select Services field.
Please Note:
If you're importing your messages as drafts, you don't need to select the services you want the posts to go out to.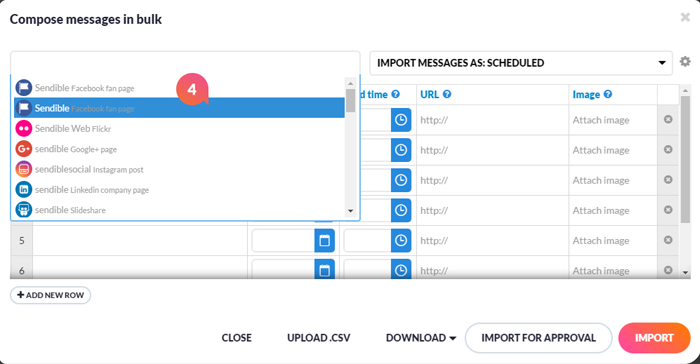 4. A drop down menu will display for you to select the service/s you want the posts to be sent to.
Please Note:
Once you've selected one service and if you'd like to select another, click on the field again for the dropdown to be displayed so that you can select another service. This will apply to all the messages you're bulk importing at that time.
5. Select whether you want your messages to be Scheduled, added to a Queue or to your Drafts view.
6. If the Queued option has been selected, you'll then be provided with a list of your available Queues so that you can select the relevant Queue.
7. You can also create a New Queue.
8. Select the cog icon when a Queue is selected to adjust the settings of that Queue.
9. You can then start to directly type the text for your messages into the fields provided if you're not importing from a CSV file.
10. If you're importing your messages as scheduled, you'll need to select the date and time each message should be posted out.
11. You can then add a URL you want to include in your message if needed as well as add an image.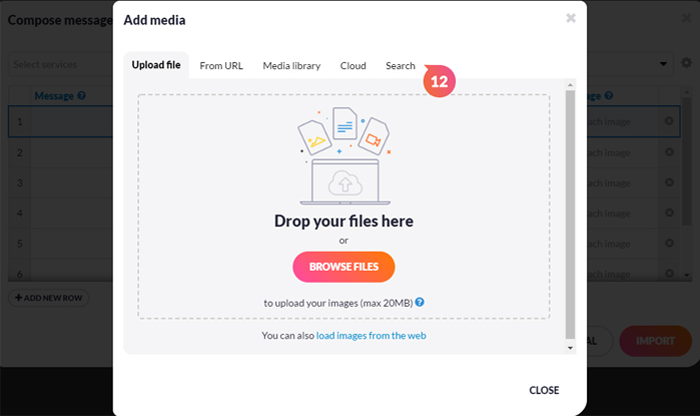 12. If you select the image field, the following window will appear which provides the majority of options available when you click Attach in the Compose box.
Tip:
Please see
this page
for more information about adding images to your posts.
Please Note:
You will need to individually attach an image to each post you want to include an image.
Bulk import using a CSV file
Tip:
You can also download a template CSV file from here:
Please Note:
It's not currently possible to include links to videos in a CSV file or links to images on Google Drive or Dropbox for these to be bulk imported. You will need to attach videos and images hosted on Google Drive or Dropbox individually to each post using the Attach option in the Bulk Importer after importing your CSV file.
13. If you're importing a CSV file, we highly recommend that you first download the sample CSV provided as, if the fields in your CSV file do not match those in the example file, then your posts will not be successfully imported. When you're CSV file is ready, select the Load from a CSV file option.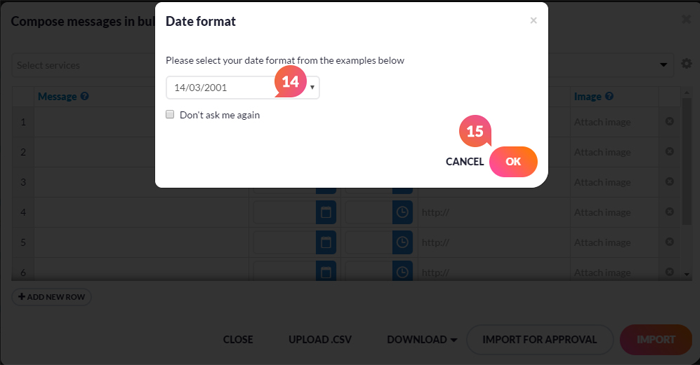 14. You'll first need to select the correct date format for your posts.
Tip:
You can tick the 'Don't ask me again' box, if you wish to use the same date format for all your posts, the date format selected will be saved as default from then on.
15. When you've selected the correct date format, click OK.
16. A browser window will open as shown so that you can locate and select the CSV file you want to import. Once you've found it and selected it, click Open.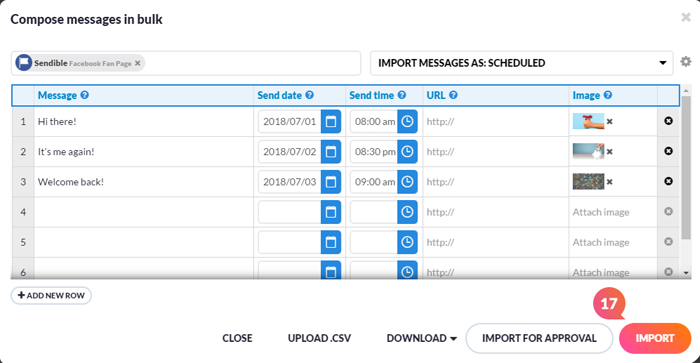 17. The messages, time, etc. which were included in your CSV file will then be populated in the bulk import form so that you can check the messages and make any changes you need to. When you're happy and ready for the system to import the messages, click Import.
18. If you're bulk importing to a Queue, either via CSV file or by adding the content of the posts directly to the bulk importing form, the date and time options will not be available as the messages will be added to the Queue and sent out dependant on the settings for that Queue.