Adding profiles in Sendible
If you have used other social media marketing tools, you will likely be familiar with the concept of adding Profiles or Channels.
There are four main categories of profiles that we currently support. Adding any type of profile will use 1 profile allocation on your account.
To get started adding profiles:
Navigate to the option called Profiles found on the top navigation bar in Sendible.
Choose the option to Add Profiles
Social - These are the main profile options that allow you to post to a social account or page. Most will also include priority updates and a live feed of activity so you can engage with replies and comments from your social channels, such as Facebook Pages, Instagram Business accounts, LinkedIn Company Pages, & Twitter accounts. They will also normally enable reporting data to be pulled from the relevant social site for that account or page.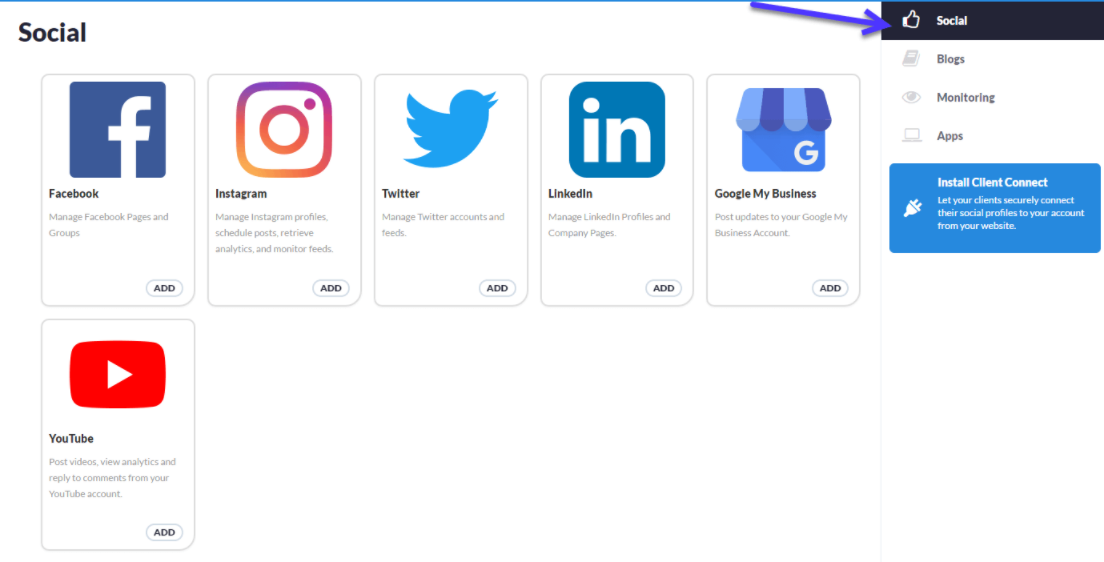 Tip: Ensure you are first fully logged out of the Social Site in your browser before you try to add a related profile to Sendible. For example, If you are trying to add a Facebook page, please ensure you are fully logged out of Facebook in all browsers and tabs.
Important: When you grant access to a third party like Sendible to take action on your behalf, eg. such as posting to your Facebook Page, if you then change security settings or remove our App from the social site, you'll need to re-authorise the connection before we can take action on your behalf again.
Blogs - Use these profile options to post to a Wordpress blog, whether it's hosted on Wordpress.com or self-hosted.

Monitoring - These profile options allow you to setup monitoring automations for Twitter and general keyword mentions, so you can get alerted when there are new results that match the set criteria.

Apps - These profile options allow for Facebook Pages to be added or reconnected in bulk

To add any of these profiles simply click on Add under the profile you want to add and then you'll be prompted to take the steps needed to grant access, eg. if it's a social profile, or to add the criteria needed for an automation.