Save frequently used hashtags
This article covers how you can save hashtags that you frequently use to use to easily re-use in your posts.
Frequently used hashtags
My Content (accessible from within the Content tab by selecting My Content from the dropdown) can be utilized to store frequently used hashtags.
This allows you to streamline the process of composing messages with hashtags in the Compose Box, especially for profiles that support hashtags such as Twitter, Instagram, Facebook and LinkedIn.
Once the hashtags have been saved, they can be added from within the Compose Box directly and will appear in the body of the message you are composing. This means that you no longer need to recall frequently used hashtags from memory or copy and paste them from a saved document elsewhere.
Creating a set of saved hashtags
1. Navigate to the Content tab
2. Select My Content from the dropdown or the left sidebar
3. Click Add Content

4. Select Social Media

5. Create a title for example "Saved Hashtags" "Saved Hashtags - Client X" etc.
6. Enter the hashtags you regularly use and wish to save, separating each with a space. Be sure to enter a '#' (hashtag) at the start of the word. If hashtag suggestions appear, do not select them, simply click away.
Important Note:
As you enter the hashtags, a dropdown will appear. Do ensure that you do not select the hashtags from the dropdown as these are Twitter suggestions and it may cause issues when using the saved hashtags for a different social site.
7. Once you have entered all of the hashtags which you would like to save for this particular group, click Add Content to save. You can repeat this process for additional sets of hashtags or clients.

Scheduling a message using saved hashtags
8. To use the hashtags you created by following Steps 1-7, navigate to the Compose Box by selecting the Compose button from the top right-hand corner of the dashboard.
9. Select a Profile or Profiles from the Profile Selector dropdown.
10. Insert the saved hashtags by clicking on the book icon (if you hover over the icon it will display as "RSS, content and trends")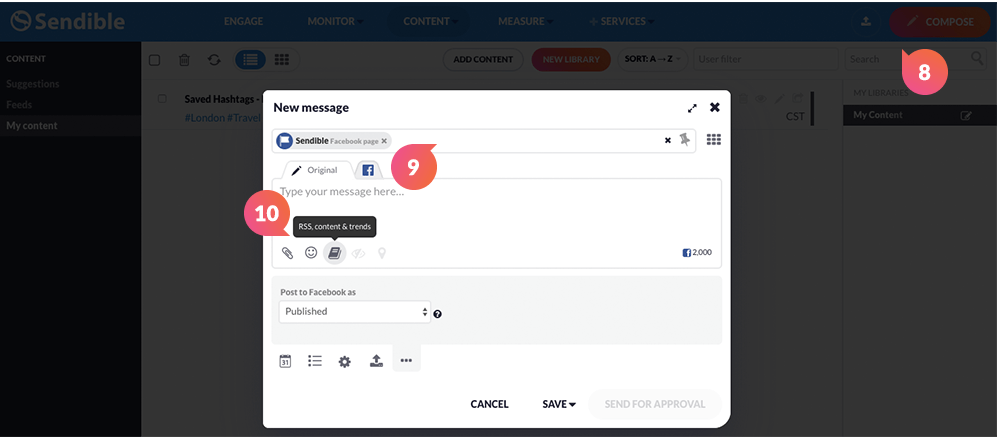 11. Filter by the Content Library or the title you created in the previous steps and click Insert.

12. The saved hashtags will then appear in the body of the Compose Box and from here you can create and schedule out your message. (see How to Schedule a Message).