Set up a new user
Users are essentially separate dashboards under an account. We currently have three (3) different types of users:
Admin
Team Member, and
Client
Each gives different levels of access to the options within the dashboard and other users under your account. With every plan we provide, you will receive a minimum number of users that you can set up, which are included in the base price of the plan. However, you can also always add more users to your account at any time via the Subscription page if you're logged in as an Admin user. Please see this page for more information.
Create a new user
Click on your Username on the top right-hand side of the dashboard. 
From the drop-down menu, select Manage Users. 
Click on the New User button.
Credentials tab
Name or Company is the name that will be displayed on their User Account. You'll also need to provide the email address that will be linked to their account and username, which they can use instead of their email address to log in.

Note: You cannot use the same email address on multiple accounts.

Permissions Groups are set up in a separate menu from the Users option. With Permissions Groups, you can restrict the features that a user has access to.
Account tab
Click on Account from the options to the left to select the type of User Account you want to set up for that user.
Tip:
Check out
About user types
 to understand the differences between the user types.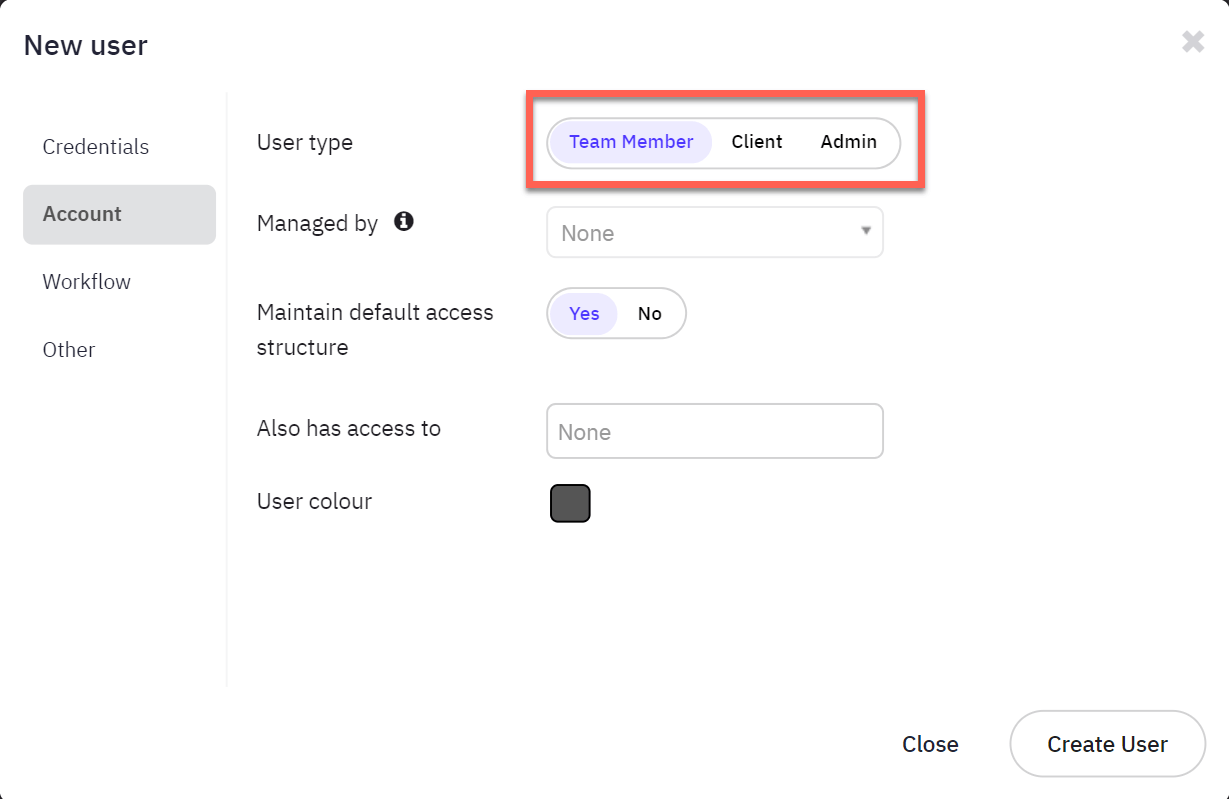 Users can manage other users as well as be managed themselves by other users. Use the Managed by option to select a manager for this user. This will help form an access structure of users.
An access structure is used to show the management of users.

If set to Yes, the user will have access to all users below them in the structure.

Select the accounts you want this user to have access to. This allows the user to be able to view all correspondence on the other accounts selected here.
By setting the User colour, you can differentiate each user by colour. Any user who scheduled any posts will appear by their pre-set colour in your Calendar view.
Workflow tab
Caution: Custom approval workflows are only available on the Scale and Expansion plans
Select the Workflow option from the list to the left to set up custom approval settings.
Clicking the Yes option will bring up a list of users to choose from. The account chosen will need to approve all of this user's messages before posting.
Other tab
Use the Other menu to add or edit Custom fields.
Once you've provided all the options you want to add to that user account, select the Create User button.