Publish Facebook dark (unpublished) posts to convert to an ad
Sendible now supports Facebook Dark Posts, this means that you can send out an unpublished Facebook post to one of your Pages, and later convert these into ads.
Important Note:
Only
Facebook Pages
which are being managed through
Facebook Business Manager
support this feature. For more information, please see:
https://business.facebook.com/
If a Facebook dark post (unpublished) is sent out, but Facebook Business Manager is not set up on your Facebook account, the post will not be published. The post will only be available to post or convert into a Facebook Ad once you have set up Facebook Business Manager on your Facebook account.
Follow the steps below to send a dark(unpublished) post to a Facebook Page:
1. Click on the Compose box.




2. Select a Facebook Page profile.
3. Selecting a Facebook Page profile will automatically make the Published/Unpublished option available.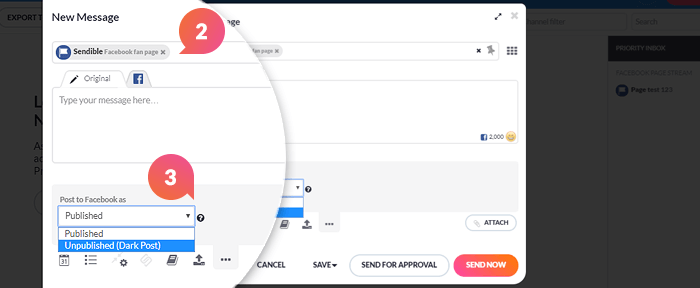 Please Note:
If a profile list is selected and it has at least one Facebook Page profile included in the list, or if multiple type of profiles are selected, i.e. Twitter, LinkedIn and Facebook Page, this will also make the Published/Unpublished option available.
Please Note:
When posting a dark post to Facebook, only one image per post is supported. Facebook currently only support attaching one image to dark post, as it's intended to be converted into an ad.

4. Once the Unpublished post has been sent out to Facebook, it can be found under the Facebook Business Manager.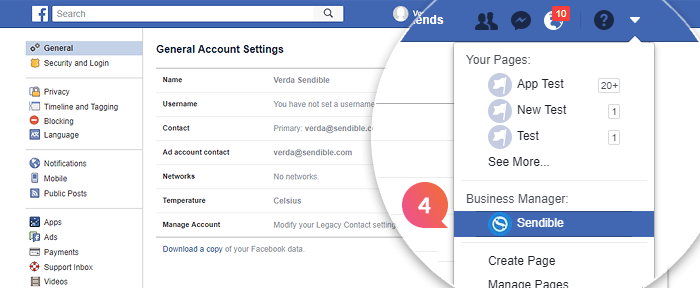 5. In the Facebook Business Manager, from the menu in the top-left corner, please select Page Posts.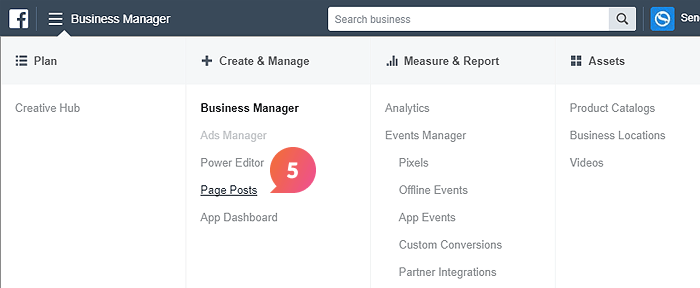 6. When you select the Unpublished post, there are a few options presented: Publish, Schedule, Delete, and Create Ad under the Actions menu.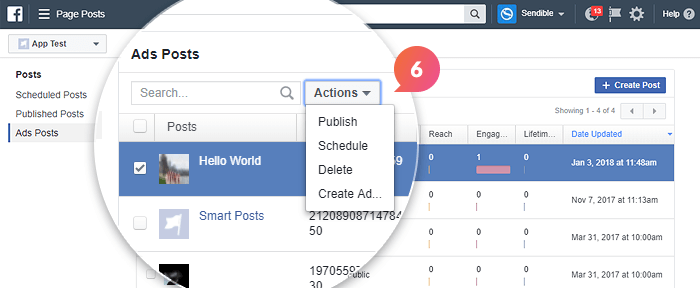 Tip:
If your Facebook Page post is sent out as a dark post from Sendible, and from the Facebook Business Manager console, you decide to publish it instead of turning it into an ad, activity on this post will be brought through to the Priority Inbox, and reporting data for it will also be shown under the Measure reporting area in Sendible.