The Priority Inbox is intended to display important messages that you might need to view and respond to. Messages will be displayed in the Priority Inbox if you select the option for alerts to be brought into the Inbox when setting up a posting service.
Please Note:
There can be a 1 - 2 hour delay for messages to be brought from your social channels into the Priority Inbox as messages will need to be analyzed for sentiment. To monitor your social channels in real time, please set up a Stream where possible.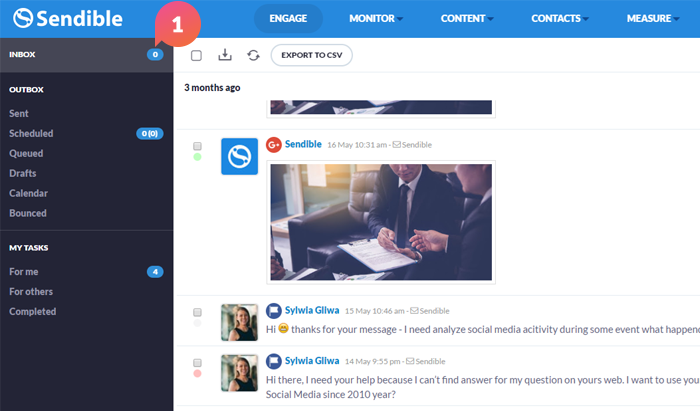 1. By clicking on Engage and then Inbox the Priority Inbox will be displayed by default.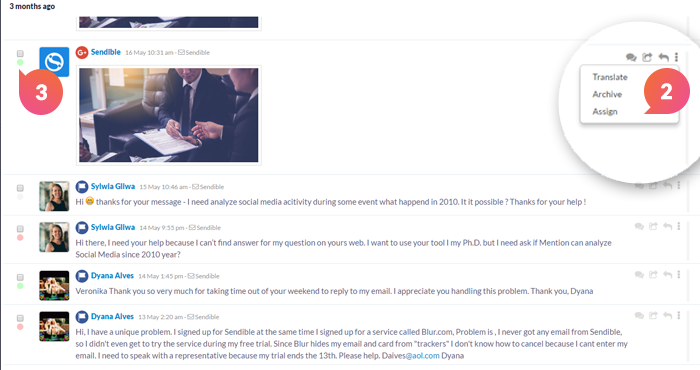 2. You can respond to messages from the Priority Inbox as well as re-posting to share it on your own social channels, etc. You can also Translate, Archive or Assign a message as a task if you click on the 3 dots on the right side of the other icons.
Please Note:
The options will vary depending on the social channel the message has come from.
3.  The dots at the beginning of the comments are showing the predicted Sentiment of the content of the comment. Grey stands for Neutral, Green for Positive and Red for Negative sentiments.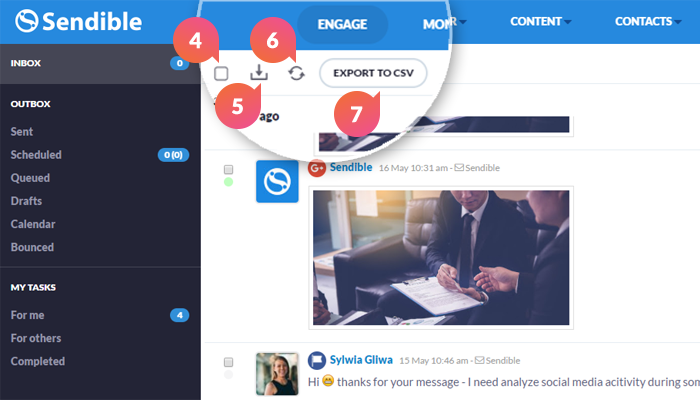 4. Ticking this box will select all the messages in your inbox.
5. This icon will let you to archive posts from your Priority Inbox.
6. This icon will refresh your inbox.
7. You can also export data from your Priority inbox as a CSV file.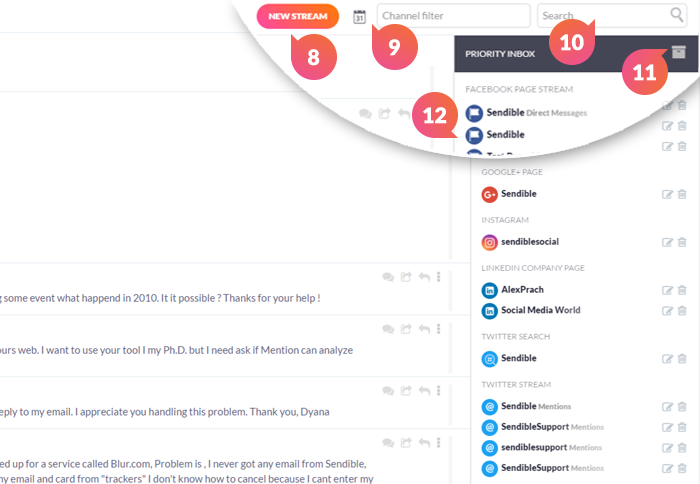 8. You can add a New Stream service to your Priority Inbox.
Please Note:
This will count into your services allocation.
9. You can Filter for results by time period or social media channels you have added.
10. You can Search for words in the body of posts.
11. You can also see messages you have Archived previously by clicking on the "storage box" icon and here you also have the ability to restore archived messages to your Priority inbox timeline.
12. Clicking on a specific stream will show you all of your incoming activity (comments, likes etc.)  for that social media account and also lets you react to these comments directly from Sendible.
Please Note:
You will be able to also see if a stream is disconnected for any reasons and will be prompted to reconnect the account.