Best practices: Securing your Sendible and social media accounts
Social media is important for businesses and individuals alike. Keeping your social media and Sendible accounts secure is critical to maintaining your accounts' integrity and your social reputation. 
Quick facts
Use strong passwords; a password manager can help.
Be aware of which apps, websites, and people have access and limit it to only necessary ones.
Check any linked email addresses and phone numbers and make sure you recognize them all.
Review your security settings regularly.
Securing your social media accounts
There are several actions you can take to secure your social media accounts. General account security best practices, such as using secure passwords, changing them from time to time, and keeping your credentials private, certainly apply. Setting up two-factor authentication for your social accounts is highly recommended.
In addition, you should regularly review and remove unwanted or unused apps that you have linked to your social accounts. Here's how to see which apps have access to your social media accounts.
Facebook
To check which apps and services you've allowed to manage your Facebook account, you'll need to go to your Facebook Profile account > Settings & privacy > Settings > Security and login > Business Integrations.
You should see a list of apps and services that you've granted access to and be able to view and edit those permissions as well as remove the integration entirely. See our information on how to revoke the access of a service.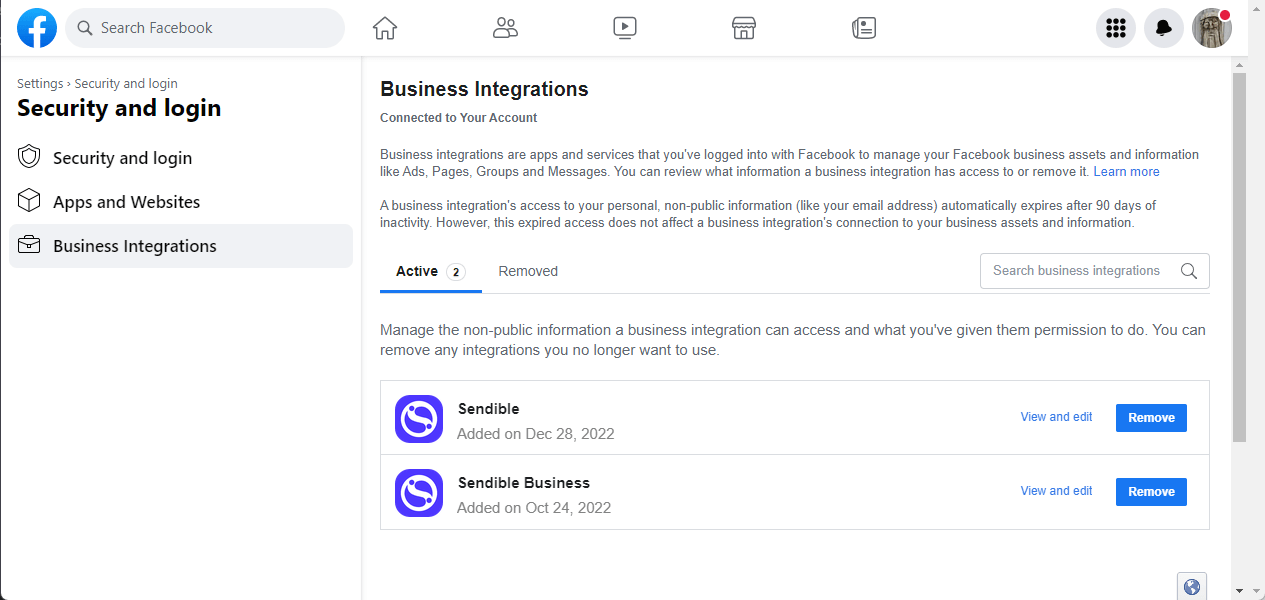 You should also review the Apps and Websites which you've connected to your Facebook account and remove any that no longer need access.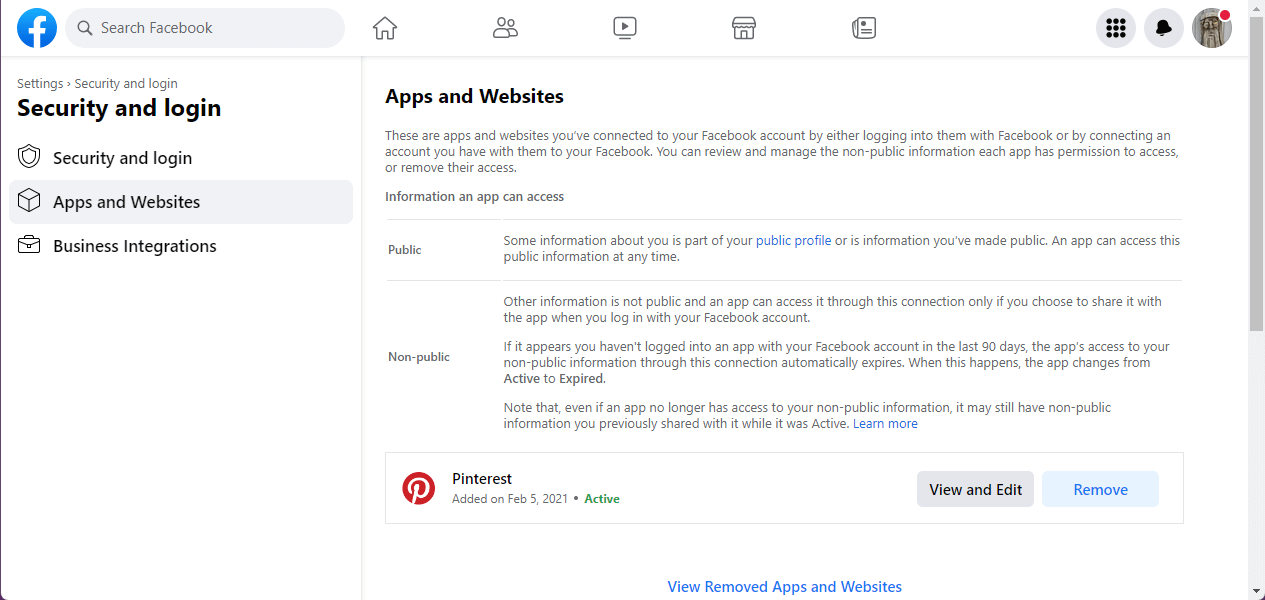 Instagram
In a web browser on the desktop, tap your profile picture (bottom-right), then Edit Profile > Apps and Websites. You can review any apps that are actively connected to your Instagram account. The location is similar if you are using the Instagram mobile app.

Note: Sendible will not appear here even if it is connected to your Instagram account, as that access is granted through the Sendible Business app on your Facebook Profile.
Twitter
To review the apps that have access to your Twitter account, go to More > Settings and Support > Settings and privacy > Security and account access > Apps and sessions > Connected apps section of your Twitter account. All of the apps connected to your account will be displayed.
If you want to disconnect an app from your account, click the Revoke app permissions link underneath that app.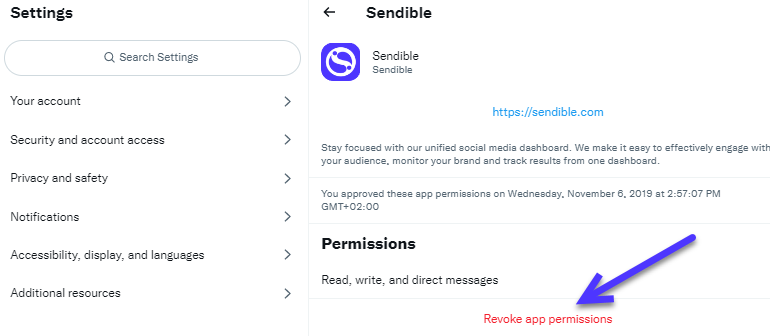 LinkedIn
To review your LinkedIn permissions, go to Me > Settings & Privacy > Data privacy > Other applications/Permitted services and click on the Show more link to see which permissions the app has been granted.
If you want to remove an app, click on the Remove link to do so.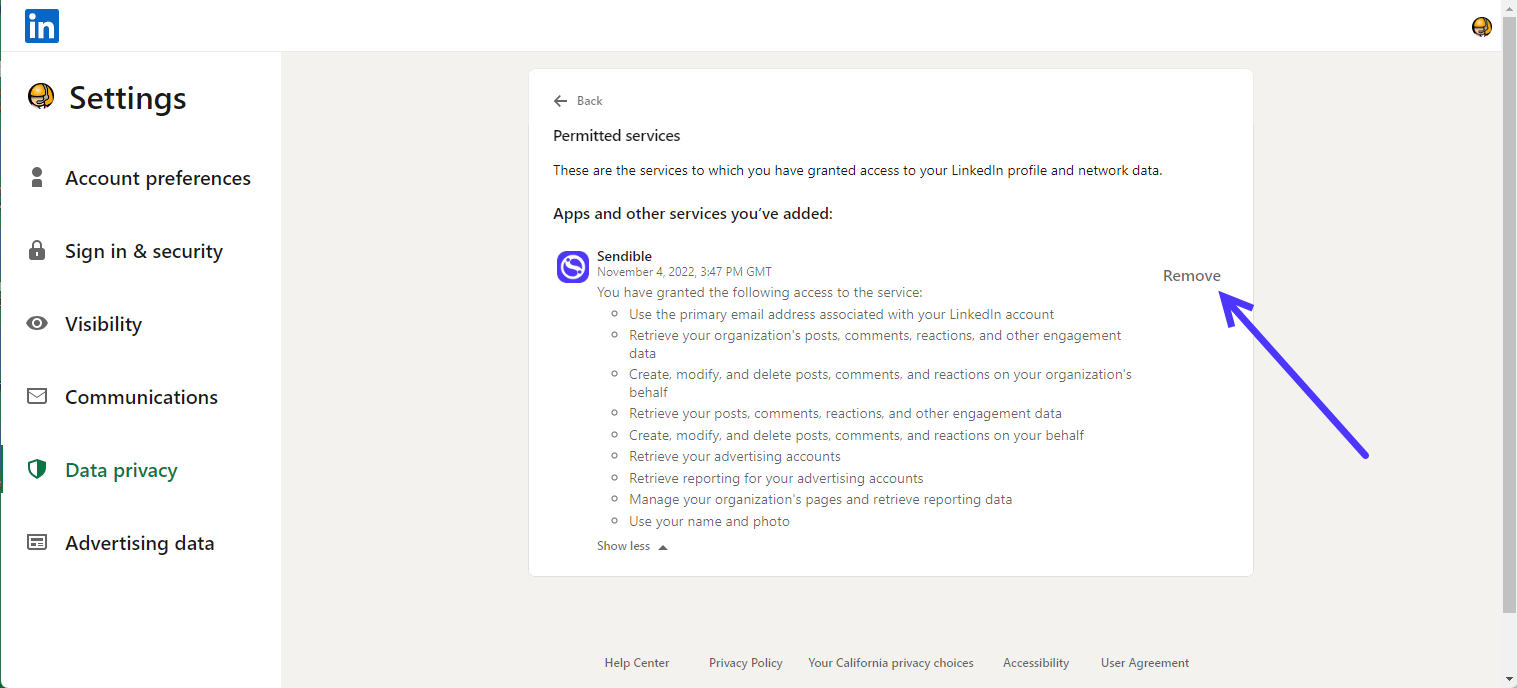 Securing your Sendible account
Hackers have been known to target third-party apps with access to social media accounts. While Sendible takes every precaution, you can support those efforts by taking a few actions of your own.
Do not share access to your account with other people. It is more secure and safer to grant each person their own login credentials, plus there are additional features you can take advantage of for multiple-user accounts.
You can restrict access to your account to specific IP addresses. That way, your account can only be accessed from specific networks, such as your workplace or home. To enable IP restrictions, go to Settings > Preferences > System settings and enter the IP address(es) that you wish to allow access from. If you don't know your IP address, you can find it at https://whatismyipaddress.com/.