Best practices: RSS feed Autoposters
Autoposters are an excellent way to automatically publish posts from an RSS feed directly to your social media profiles. However, it's important to set up your Autoposter correctly so that it works how you want it to and publishes posts as often as you'd like it to. We'll outline some best practices below so that you know how to set up an Autoposter the right way.
Which social sites can Autoposters post to?
An Autoposter can publish posts to any social profile you choose but bear in mind that each social site has its own validations/requirements for the type of posts they allow. So in some cases, your Autoposter may be creating posts exactly as you intended it to, but the posts may be failing for other reasons.
One common reason is that the image included in the post created by the Autoposter (which is pulled from the RSS feed) doesn't meet the social site's requirements. This is most common for Instagram which has more strict requirements regarding the types of images you can include in your posts.
For this reason, we usually recommend excluding Instagram profiles from Autoposters, especially if the RSS feeds aren't under your control. However, if you have control of the feed on which you've created the Autoposter, then you can make sure you use the right images for the social sites to which you wish to post. See our support article on image validations for further details: Best practices: Social platforms image guidelines.
Note: If you set your Autoposter to include links, these links won't be clickable on Instagram as Instagram does not support clickable links.
Check that your RSS feed is a valid RSS feed
There are different types of RSS feeds, and more than one way to set up an RSS feed. Here are some pointers on ensuring you set your feed up to work well with Sendible.
You can double-check your RSS feed for any possible issues using a free feed-validation service, like this one: https://validator.w3.org/feed/.
Posting frequency
When setting up an Autoposter, you'll see that you have the option to set the "Update frequency".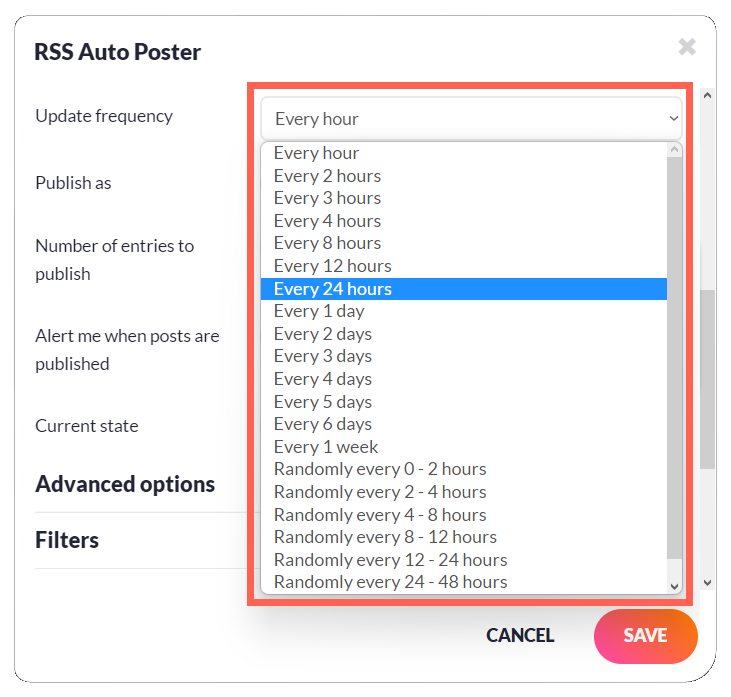 You don't need to set this to update too often, as posting similar content too often could potentially put your social account at risk of being flagged for inauthentic posting behaviour. 
If the RSS feed you're setting up the Autoposter for publishes new articles often, then you can set it to publish once every 12-24 hours and only "New Content" to avoid having your posts flagged.
The options to update between 1 hour and 8 hours will ideally only be used for RSS feeds which publish content more often. Most feeds can be updated once a day, as the Autoposter will publish these updates fairly quickly.
Use prefixes and suffixes
Under the Advanced Options, you'll find the option to add a prefix/suffix to your posts. This is often recommended so that  you can make your posts just a little different and appear more authentic, and also because this can be updated easily when needed.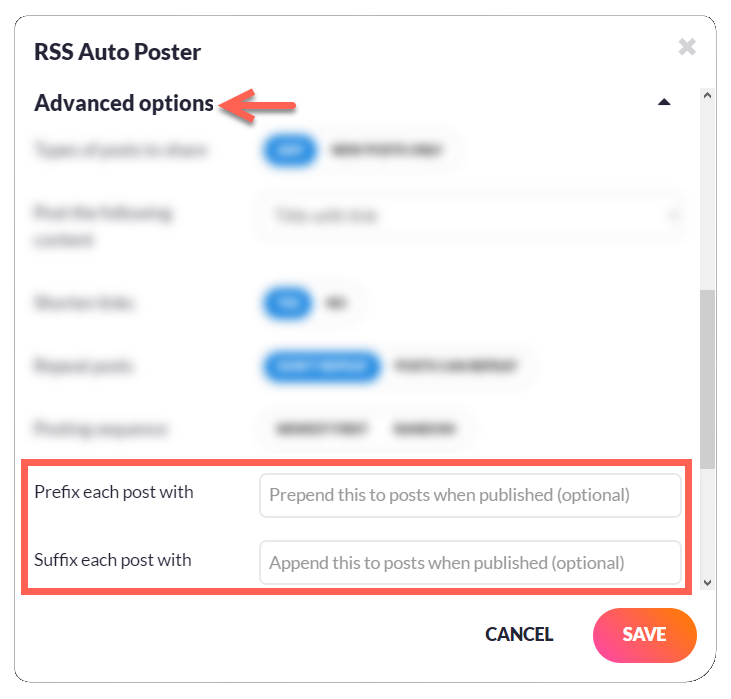 Use inclusion and exclusion filters
Past the Advanced options, you'll find the 'Inclusion' and 'Exclusion' filters, which allow you to have more control over the posts your Autoposter picks up from your RSS feed. It is another way to ensure your Autoposter doesn't publish posts too often.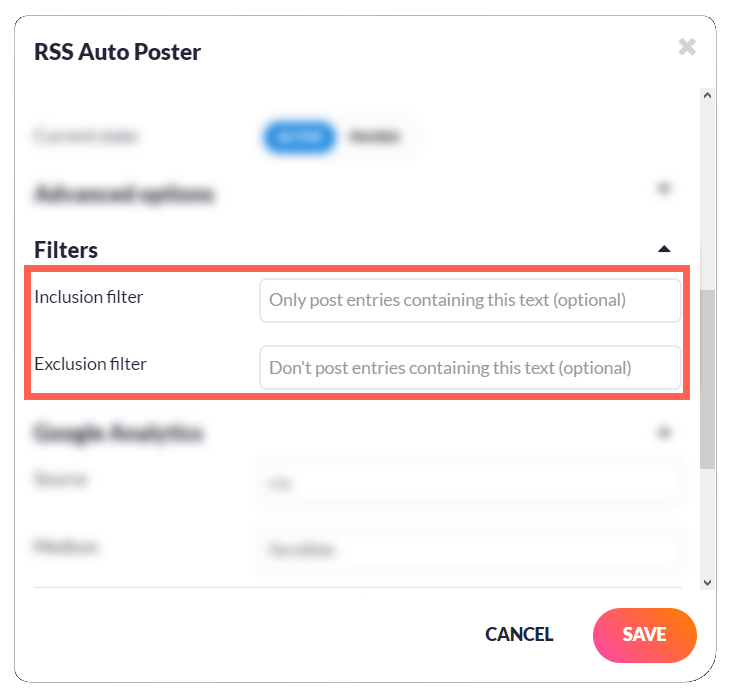 We also have a recording on RSS feeds and Autoposters, which you might find very handy, and you can find this here: Deep dive into Sendible's Feeds and Auto Posting.