Use the Sendible Engage app
Use the Engage app to organise, schedule, and publish content.
Quick facts
Multiple-image (carousel) posts for Instagram and Instagram Stories can only be published via push notifications from the Engage app.
The Sendible Engage app is available for download for both iOS and Android.
The Sendible Engage app is used for Instagram Stories and multiple-image posts. It also includes an Inbox.
Admins can switch users via the Settings menu
Note:
At this time the following features are not available on the Engage mobile app and are best used within Sendible from a web browser:
Account & billing settings
Calendar view
Preview of posts
Step-by-Step Guide
Publish posts to Instagram
If you've scheduled an Instagram Reminder post, you'll get a push notification when it's time to publish it.
The following type of posts must be published through push notifications:
Multiple-image posts
Instagram Stories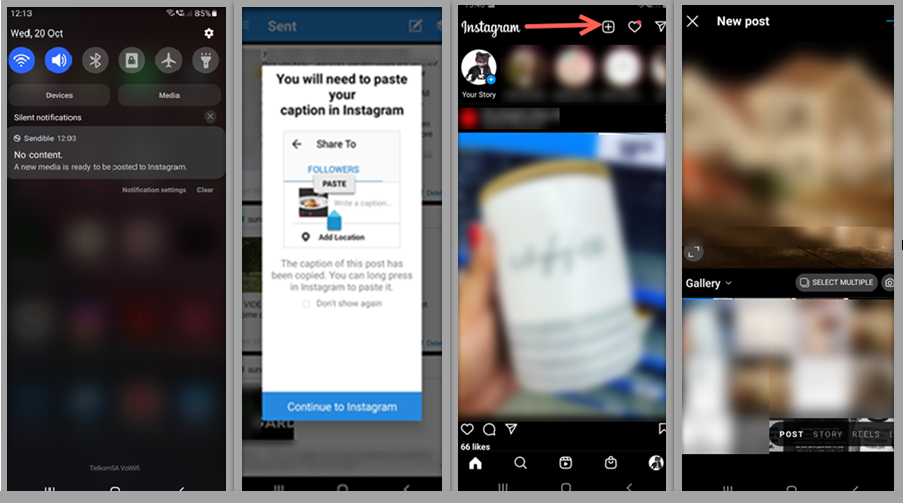 The Sendible Engage mobile app allows you to create posts on the go.
Launch the app
Tap the pencil icon on the top right
Click the + sign and select a Social Profile
Type your message
Select the photo icon at the bottom to attach media to your post.
To add a URL select the paperclip icon 🔗 at the bottom left
You have the ability to send the post immediately by clicking the send button on the top right
You can also schedule the post for a later date by clicking the calendar icon 📅 on the bottom left

Important: At this time attaching videos to a post via the mobile app is not supported.
Scheduled and Sent posts
Where to see scheduled and sent posts on the Engage app:
Click the three lines on the left side of the screen and select scheduled or sent.
Keyword Monitoring
Tap the menu tab and select keywords.
Here you have the ability to check your results that match your search terms. You can also see positive and negative results.
Manage Notifications
From the menu tab in the Engage app, you can:
Select Notifications. This is where you will be able to manage your previous notifications for Instagram Reminder (multiple-image or Stories) posts

Still having issues?

No worries!

We'll take over from here, please submit a support ticket and provide screenshots of the issue and the steps you have taken to replicate it, this will help us troubleshoot the issue further for you.