[Resolved] Unable to reconnect a Twitter profile - 21/10/2021 at 05:30 pm BST
Thursday 21st October 2021 05:30 pm BST.
Thank you so much for being patient while we have been looking into this issue.
We have released a fix for the issue. All you need to do is reset your Sendible Cache to ensure you are on the latest version of Sendible.
We sincerely apologise for the inconvenience this caused and are further investigating what caused this to occur and how it could be prevented in the future.
Thursday 21st October 2021 08:59 am BST.
Some customers may be experiencing an issue when reconnecting Twitter profiles that have disconnected.
What is the issue?
When you go to Profiles > My Profiles or schedule a message to Twitter in the Compose Box, and you see the flag to Reconnect, reconnecting these profiles will not remove the Reconnect flag.
At the moment, we believe that this issue is only affecting reconnecting your Twitter profile. As soon as we have more information, we will let you know.
Temporary Solution:
Head over to Twitter, click More > Settings > Security and account access > Apps and session > Connected apps or via the following link:
https://twitter.com/settings/connected_apps
⤷ Click Revoke access for the "Sendible" App.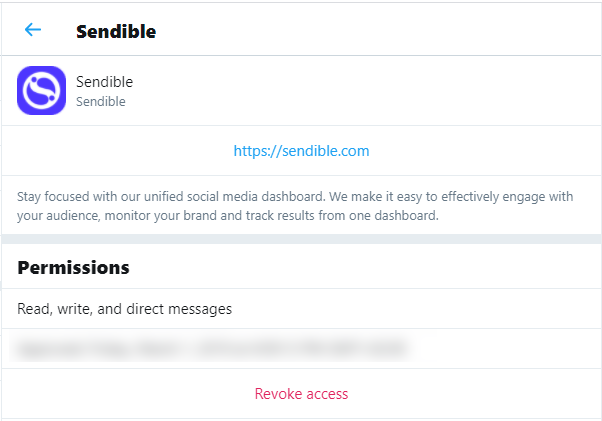 Go back to Sendible and reconnect your Twitter profile.
Next steps:
Our development team is looking into this issue immediately, and once we have an update, we will let you know.
If you have any questions about this issue or concerns, please feel free to submit a ticket, and we will get back to you as soon as possible.