What's the difference between the Priority Inbox and Social Feeds?
When you want to engage with your audience and keep up with the conversation you have two options under the Activity area within Sendible: the Priority Inbox and the Social Feeds views.
Quick Summary
| | |
| --- | --- |
| Priority Inbox | Social Feeds |
| The purpose of the Priority Inbox is to easily identify important messages and take action in one place across all profiles, including delegating conversations to specific team members. It also allows you to monitor your brand's reputation using sentiment analysis. | The purpose of the Social Feeds view is to provide a real-time view of your individual social profiles. |
| Messages delayed up to 2 hours | Messages appear immediately |
| Organised chronologically across all social profiles | Organised by social profile |
| Shows message sentiment | (not available) |
| Can reply to messages | Can comment/reply to messages on some social platforms |
| (not available) | Links to the message on the social platform |
| Clicking on a profile name opens that account in a new browser tab | Clicking on a profile name opens that account in a new browser tab |
| Threaded discussions available | Threaded discussions visible |
| Inbox/task list | Real-time social feeds |
| Only shows messages from profiles where, during their connection, the Priority Inbox was selected as an option for notifications | Only shows messages from profiles that allow social feeds to display |
Priority Inbox
The Priority Inbox is designed to serve as a place to find your message notifications (an alternative to receiving them by email) and display "actionable engagement" that you want to view and respond to.
It also provides you with a sentiment rating - positive, negative, or neutral - for each message.
Only profiles that you have chosen to send notifications to the Priority Inbox as an option during setup will appear here.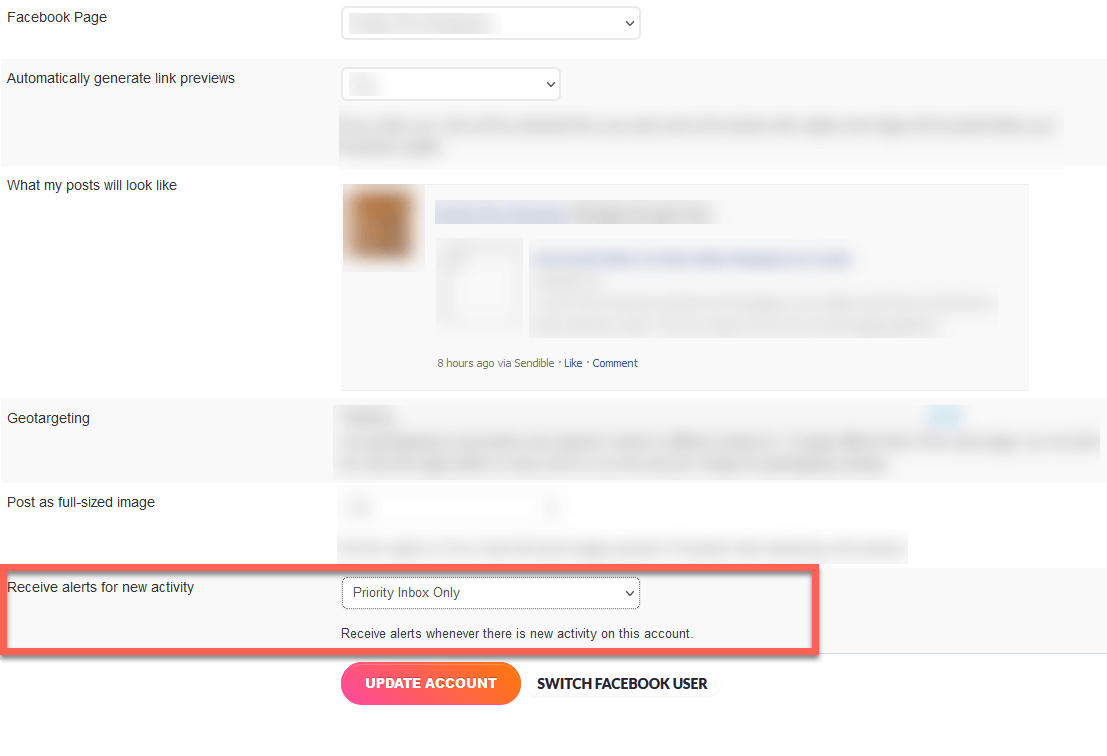 Examples include a conversation on Facebook, a comment on Instagram, a mention within Twitter, or a tag on LinkedIn. The specifics on what is pulled in and how you can interact is determined by what type of social profile you are working with.
From the Priority Inbox, you will be able to interact with engagement that happens within 4 days of when the original post was sent out.
Best practice: treat it like an email inbox or a task list - take action on it and if you want to "mark it as done" you can choose to archive it.
You can also translate or assign items that appear in your Priority Inbox to your colleagues.
Social Feeds
The Social Feeds view is designed to allow you to keep up with messages on your individual social profiles and interact with your audience in real-time. It shows both the actionable engagement as well as the home feed for each social profile.
The options which will appear in the Social Feed differ between social sites, depending on the actions they allow you to perform via their API.
There are some actions that you can take that are identical to what you can do in the Priority Inbox such as replying to a comment, but you will be able to see the original post along with the comment thread.
Want more?
Check out our recorded webinar on a Deep dive into Sendible's Priority Inbox and Social Feeds.