Best practices: Getting started with Sendible for agencies and larger teams
Sendible is the all-in-one social media management platform designed for agencies to manage multiple client profiles, efficiently launch content campaigns, and report on successes. 
Watch this brief overview of what to expect before diving into the setup:
Short video tutorials
If you want more video resources, check out our quick start training videos where you can explore short overviews on everything from reporting to setting up your team.
Now, make sure your agency is effective from day one by following these 5 steps:
Step 1: Setting up your account
Sendible is a collaborative tool that lets you streamline how your team manages social media for your clients and your brand.
User overview
There are three different types of users:
Administrators: Able to add, modify, and delete users as well as access billing and all of the dashboards of your team members, clients, and fellow admins.
Team Members: Can view and collaborate on posts, but will NOT have access to your billing or subscription information and they will not be able to add or remove users.
Clients: Only have access to their own dashboards and will be unable to see any other clients, team members, or admins.
Tip: Even if your clients never log in, we recommend setting up their own dashboard so you can easily manage their content and reporting.
Organise your team
You can also designate managers for your various admins, team members, and clients by using the User Hierarchies option. Team members under the same manager will be able to collaborate on each other's content. To learn more, follow the directions in this guide.
Create custom permission groups
If you'd like to have complete control over which users have access to each of Sendible's features, then creating permission groups is the way to go. Read on to learn how you can customise and save permission preferences for groups of users under your account. 
Note: This feature is only available to those on Large plans and White Label accounts.
Step 2: Adding social media profiles
Connect to social media networks like Facebook, Twitter, Instagram, and LinkedIn by adding profiles. Each profile lets you directly post to the network, pull in comment streams, and retrieve reporting. 
Sharing profiles
After you add your profiles, you'll be able to share them with your team members without using up your profiles allowance.
Recommended profiles
Instagram
Instagram Business for posting directly to Instagram, retrieving analytics, and receiving comments in Sendible. This is only available for Business Profiles, not Personal Profiles.
Facebook
Twitter
Twitter for directly posting to Twitter.
LinkedIn
LinkedIn Company Page to directly post to LinkedIn Company Pages and read and respond to comments
Profile Limit Reached? Add New Profiles Easily
Maxed out your profiles? Not a problem! Just head over to your Subscription Page to make your changes.
We bundle users with profiles, so depending on your plan, you'll receive 12-16 new profiles for every user added.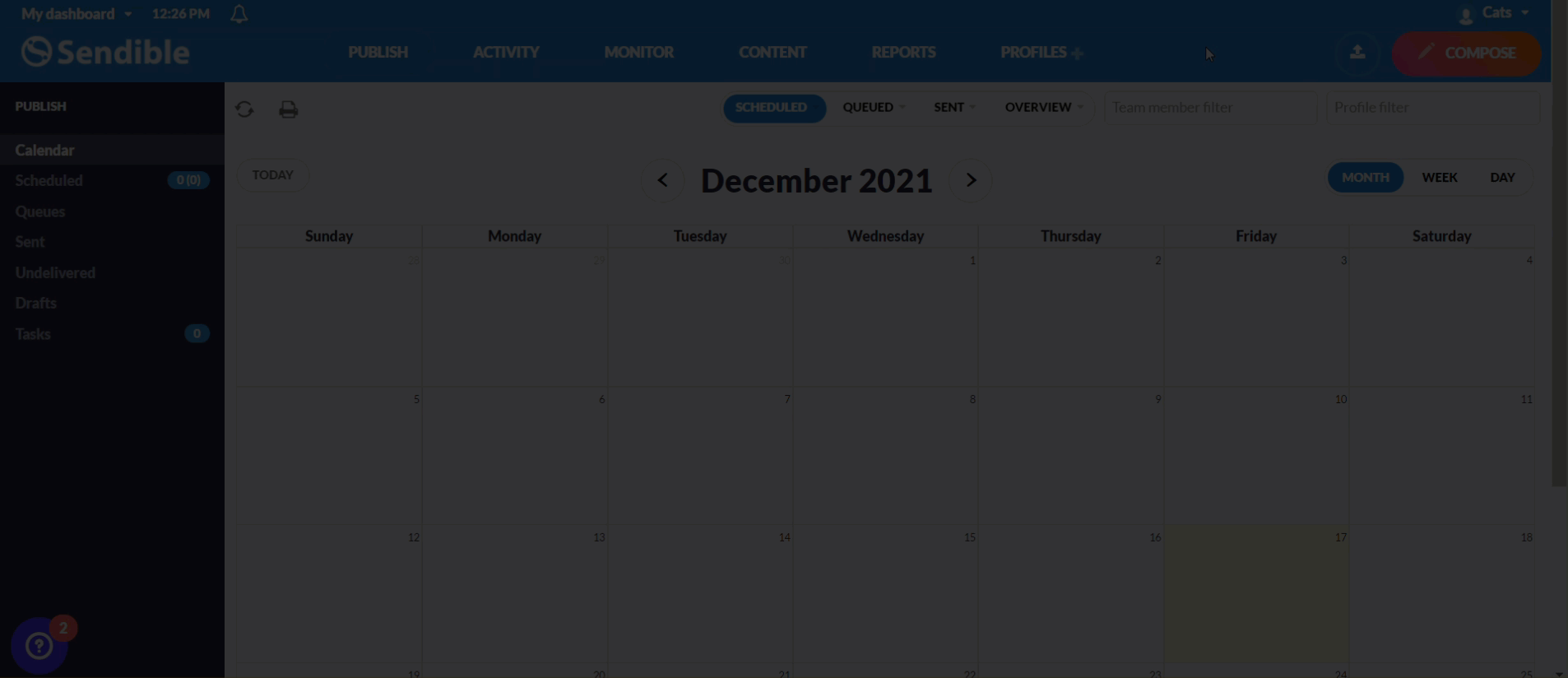 Client Connect
If you don't have access to your client's login details or you're worried about safely storing their passwords, use Client Connect for a risk-free way that allows your clients to connect their social media profiles directly through a widget on your own website.
They'll then be able to authorise you to manage their accounts through Sendible, and you're all set.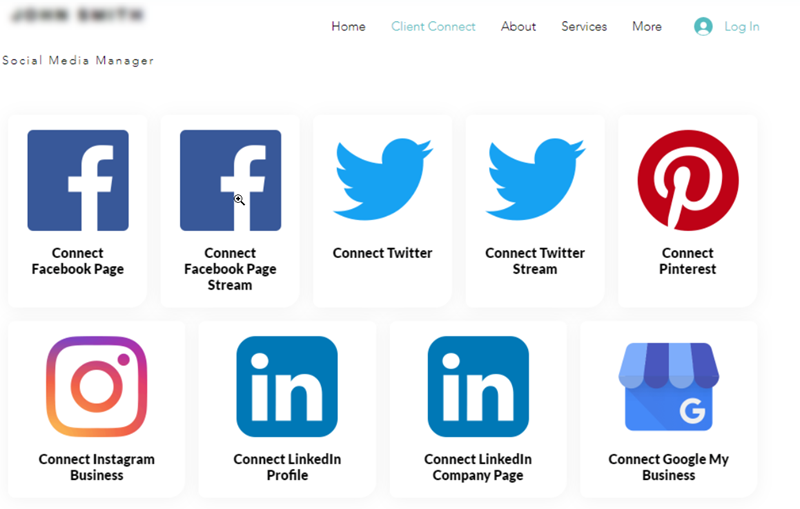 Step 3: Scheduling options
Whether you like to schedule posts days, weeks, or even months in advance, we've got a workflow for every work style.
With the Sendible Smart Compose Box, you can:
Customise messages for each platform to increase your engagement
Geotag your Instagram posts to extend your reach
Add Instagram hashtags to the first comment to increase your reach
Preview how posts will look on every platform
Schedule posts to go out at a specific time, optimised for your audience
Add tags for Facebook, Twitter, and LinkedIn
Find relevant hashtags for Twitter and LinkedIn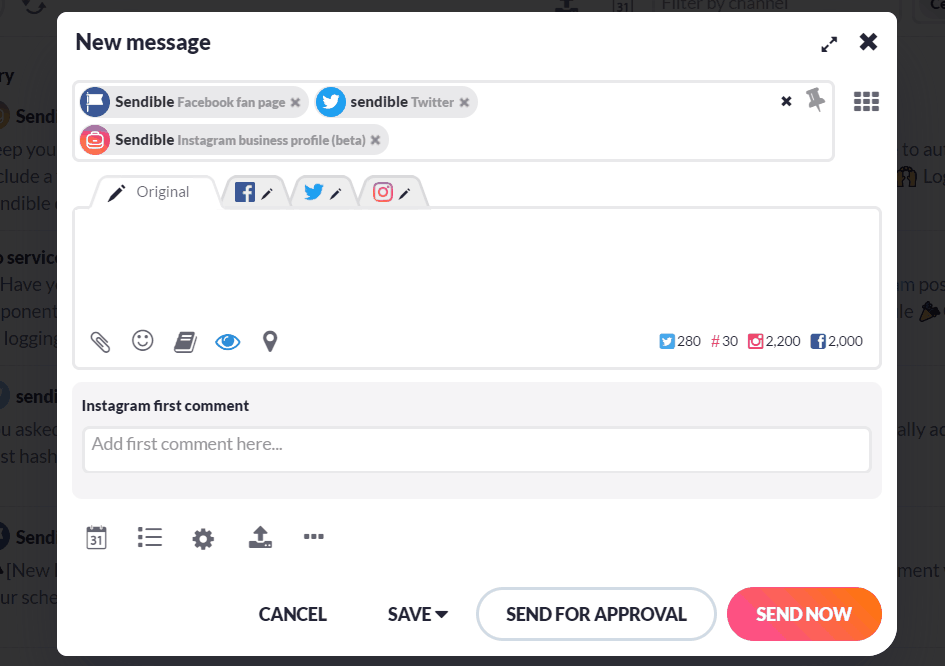 Image and video highlights
Need to spruce up your posts with images and videos?
Here's what's available to you:
Upload files from your computer or easily add images from any website via URL
Use our image editor to optimise images for every platform
Explore our Canva integration to create your own visual content
Reuse content from your media library
Pull in YouTube videos with a URL so you can share in a cinch
Bulk uploads and calendar management
Use the bulk importer to breeze through scheduling your content calendar. Besides being a time saver, it also allows you the option to collaborate with your team on a CSV file and to get buy-in from stakeholders like agency clients before importing into Sendible if you'd like to use approval workflows in Sendible, head down to Step 4.
Note: You won't be able to use the Smart Compose Box's ability to customise content based on social network when using the bulk upload feature.
Calendar management
Get a bird's eye view of your scheduled content in the Calendar view. If you're unhappy with the spread of the posts, then you can easily grab and move posts to another day. You can also filter the view based on team members to get an idea of how each content campaign looks.
Smart Queues
Queues are one of our most popular time-saving features because they let you categorise content and create pre-set schedules to prevent any gaps in your calendar.
Source content and auto-post from RSS feeds
Struggling to fill up your content calendar? Explore our social media holiday calendar to find over 300 content ideas ready to be drafted and published. You can also set up RSS feeds for publications and blogs, as well as autopost new articles as soon as they're live.
Content Library
Store copy and images in the content library for easy sharing across teams or to post at a later date such as frequently used hashtags and canned responses that can be used when replying to comments on your posts. 
Note: While you'll be able to access previously published images no matter your plan type, only the Traction plan and up are able to add new content like complete social posts and blog posts.
Step 4: Approval workflows
Whether you're working with clients who want final say on posts before they go live or you're maintaining consistency across a wider team, approval workflows help you reduce errors and keep the quality of your social media content high.
Step 5: Reporting
Reports are how you can wow your clients by sharing their social media performance successes that came out of all of your time spent planning, composing, and posting.
As long as you set up each client that you manage with their own dashboards, then the Engagement Report is a great overview of all of the profiles connected to their specific account.
Custom reports
If you combined multiple clients in a single dashboard or you want to make sure that you're only including relevant data that they'll pay attention to, then building reports from scratch is your way to go. By customising these reports, you'll be able to:
Add a cover page
Share it with other members of your team
Print the report with your own logo or that of your clients
Set it to automatically email on a regular schedule, saving you time with every client that you manage (available on the Growth plan and up)
Share a live URL link (available on the Large plan and up)
Note: This feature is only available to those on Scale, Expansion, Growth, and Large plans as well as White Label accounts.
Bonus: Monitor engagement with the Priority Inbox
If community management is a service you offer to your clients, then you'll be able to manage comments on your posts from multiple platforms in one easy location.
Note: Keep in mind that the Priority Inbox operates on a delay but provides an overview of all the incoming messages from your connected social media accounts. If you want to see activity in real time, please explore your Streams.
Partner with Sendible
Join our agency partner program to build trust with your clients. You'll have access to your own branded software solution that's powered by our leading social media management platform. While you focus on growing your revenue and upselling your services, we'll take care of all the maintenance work including providing troubleshooting support to your clients and giving you a dedicated customer success manager.
We only approve a limited number of new partnerships a month, so click here to get started.
Need more inspiration?