Best practice: Five simple steps to get started with Sendible
Sendible is a social media management platform that lets you streamline how you manage social media for brands. From automated publishing to collaboration tools and engagement analytics, you'll be able to easily launch your campaigns and report on your ROI.
Watch this short video to get a brief overview:
Short Video Tutorials
If you want more video resources, check out our quick start training videos where you can explore short overviews on everything from reporting to setting up your team.
Get Started
Whether you like to schedule posts days, weeks, or even months in advance, we've got a workflow for every work style, so follow these 5 steps to make the most of your trial:
1. Connect Social Media Profiles
Connect to social media networks like Facebook, Twitter, Instagram, and LinkedIn by adding profiles. Each profile lets you directly post to the network, pull in comment streams, and retrieve reporting.
The profiles we recommend that you get started with are:
Instagram
Instagram Business for posting directly to Instagram, retrieving analytics, and receiving comments in Sendible. This is only available for Business Profiles, not personal profiles.
Facebook
Heads up:
If you want to read and reply to comments on your Facebook Ads, you'll have to
add Facebook Ads separately
. Make sure that the relevant Facebook Fan page has already been connected to Sendible.
Twitter
Twitter for directly posting to Twitter and to monitor the Home timeline, mentions, DM's, and more.
LinkedIn
LinkedIn Company Page to directly post to LinkedIn Company Pages and read and respond to comments
Profile Limit Reached? Add New Profiles easily
Maxed out your profiles? Not a problem! Just head over to your Subscription Page to make your changes.
We bundle users with profiles so depending on your plan, you'll receive 12-16 new profiles for every user added.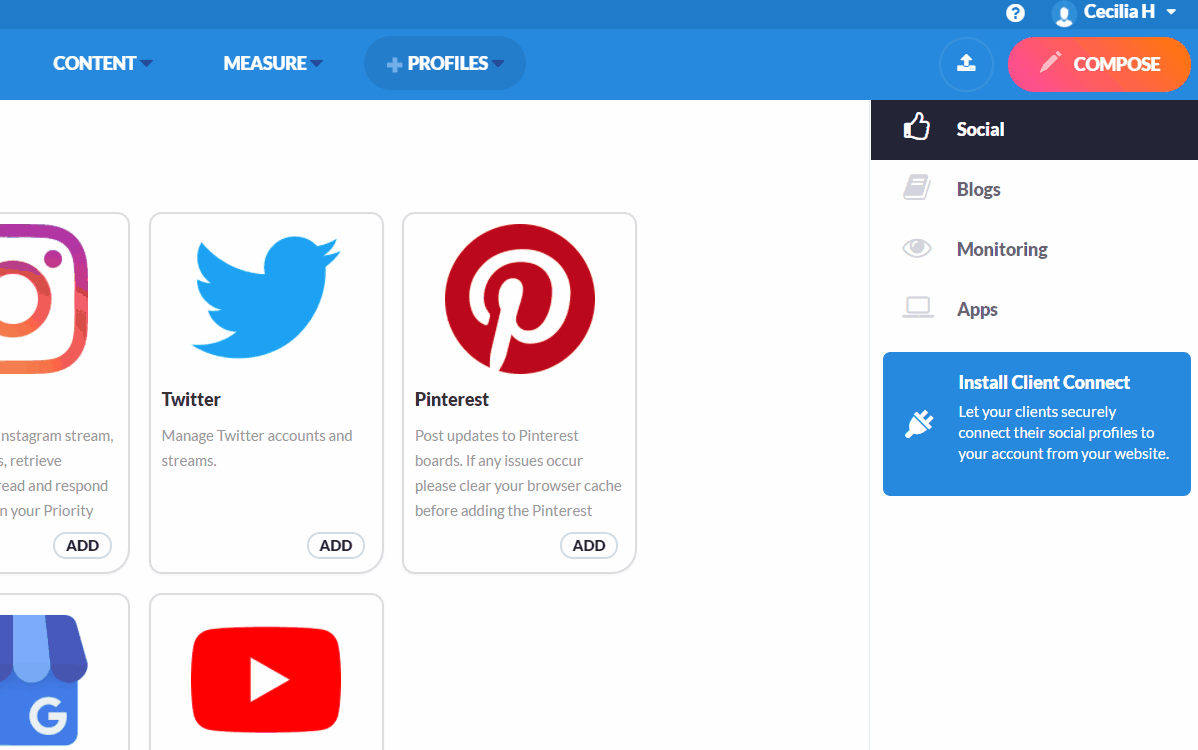 2. Smart Compose Box and Bulk Upload Overview
Smart Compose Box Highlights
With the Sendible Smart Compose Box, you can:
Customise messages for each platform to increase your engagement
Geotag your Instagram posts to extend your reach
Add Instagram hashtags to the first comment to declutter your caption AND increase your findability
Preview how posts will look on every platform
Schedule posts to go out at a specific time, optimised for your audience
Image and Video Highlights
Need to spruce up your posts with images and videos? Here's what's available to you:
Upload files from your computer or easily add images from any website
Reuse content from your media library
Explore our Canva integration to create your own visual content
Use our image editor to optimise images for every platform
Pull in YouTube videos so you can share in a cinch
Bulk Upload Highlights
Do you already have your content planned out in a CSV file? Not a problem! You can upload your content in bulk for easy scheduling. Learn more about importing your content in bulk by clicking here.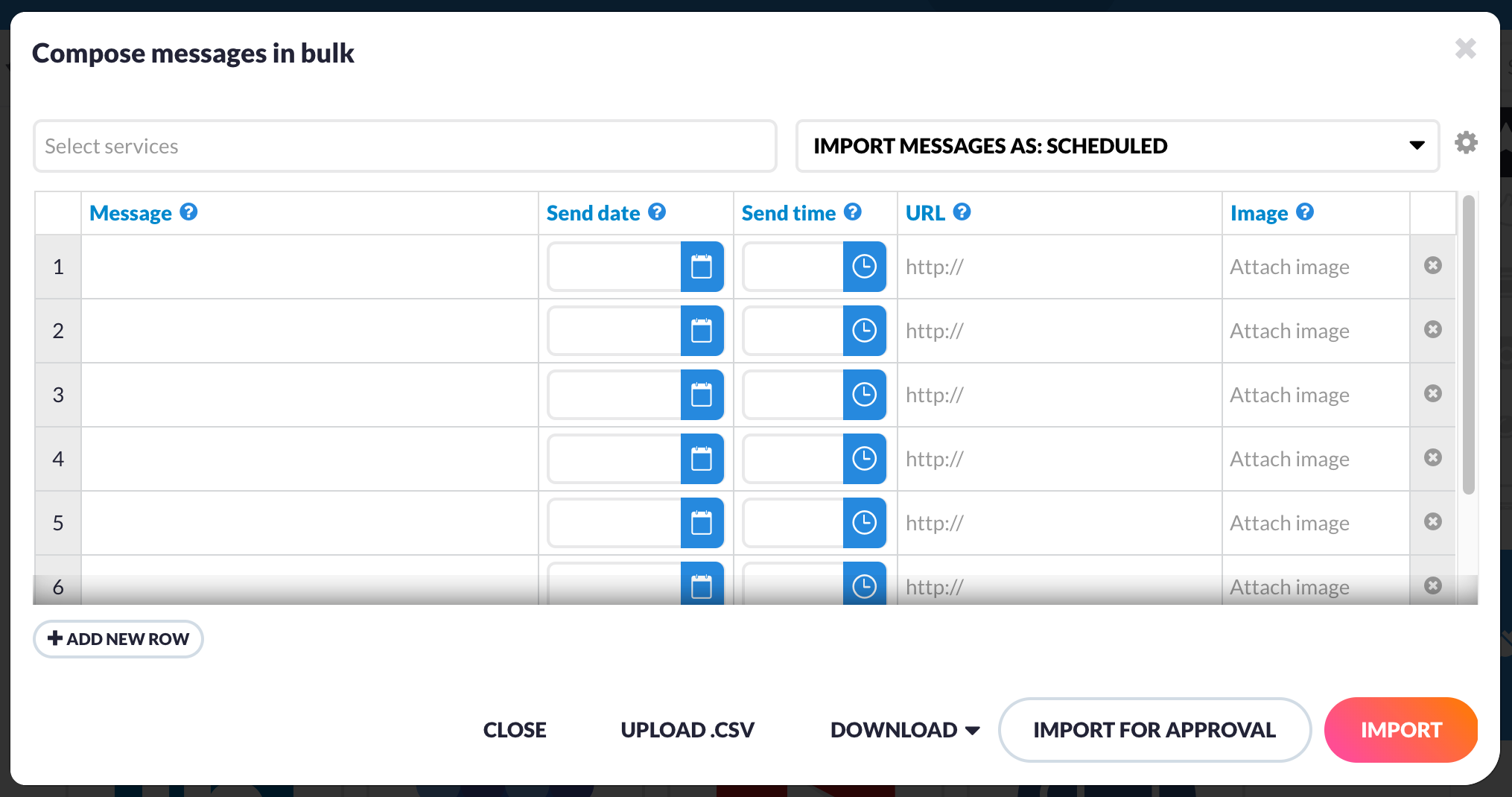 3. Create Queues for Evergreen Content
Queues are one of our most popular time-saving features because they let you create pre-set schedules for your content.
All you need to do is:
Determine how many times a day you want to post
Add in the times or let us optimise the times for you
Choose the queue option when scheduling content
And you're all set! You can also recycle evergreen content using queues so that you never have to worry about gaps in your content calendar.
4. Set Up Feeds to Source Content
If you're struggling to fill up your content calendar, explore our Content tab to find relevant articles from a range of topics.
You can also set up RSS feeds for publications and blogs, as well as auto post new articles as soon as they're live.
P.S. If you're looking for little extra content inspiration, check out our Social Media Holiday Calendar.
5. Monitor engagement with the Priority Inbox
One of the main goals of having a social media presence is to build up your audience and engage with followers. We allow you to manage and monitor your community using a Priority Inbox of aggregated messages as well as real time streams for individual social media accounts.
Keep in mind that the Priority Inbox operates on a delay but provides an overview of all the incoming messages from your connected social media accounts. If you want to see activity in real time, please explore your Streams.
Bonus: Invite Teammates and Manage Content Approval Workflows
Sendible was built as a collaboration tool for agencies, freelancers managing clients, and internal marketing and sales teams. Easily send posts for approval and make sure certain users only have access to specific accounts.
If you'd like to get an in-depth tutorial on how to manage teammates and set up custom approval workflows, please check out this resource.
Heads up:
You'll need to be on the Traction plan and up to access the approval feature. Custom team approval workflows are only available on the Growth and Large plans. If you'd like to upgrade your trial to
experiment with the full range of features, just click here
(don't worry, we won't charge your card until your trial is over).
More Resources to Help You Master Sendible
You're all set with the basics! We have plenty more resources to help you level up your social media game including:
Want to speak to a human? Click here.
Want to suggest a must-have feature that we're missing? Let us know.