What can I try when I'm having trouble with Instagram Reminder push notifications?
From time to time, push notifications may not come through and usually this is due to the profile setup or Sendible app setup. Please follow these steps to help us troubleshoot the issue and help you get a quicker resolution.
Have you allowed push notifications on your mobile device?
To ensure that this is turned ON, please go to:
iPhone: Settings > Notifications > Sendible
Android: Settings > Apps and Notification > See all apps or App info > Sendible.
Note: The menu options may differ for Android users, depending on the Android version you're running.
Have you selected your user account(s) under the Instagram Reminder Profile?
Go to Profiles > My profiles > and click the Instagram Reminder Profile in question then ensure that the correct user(s) is selected.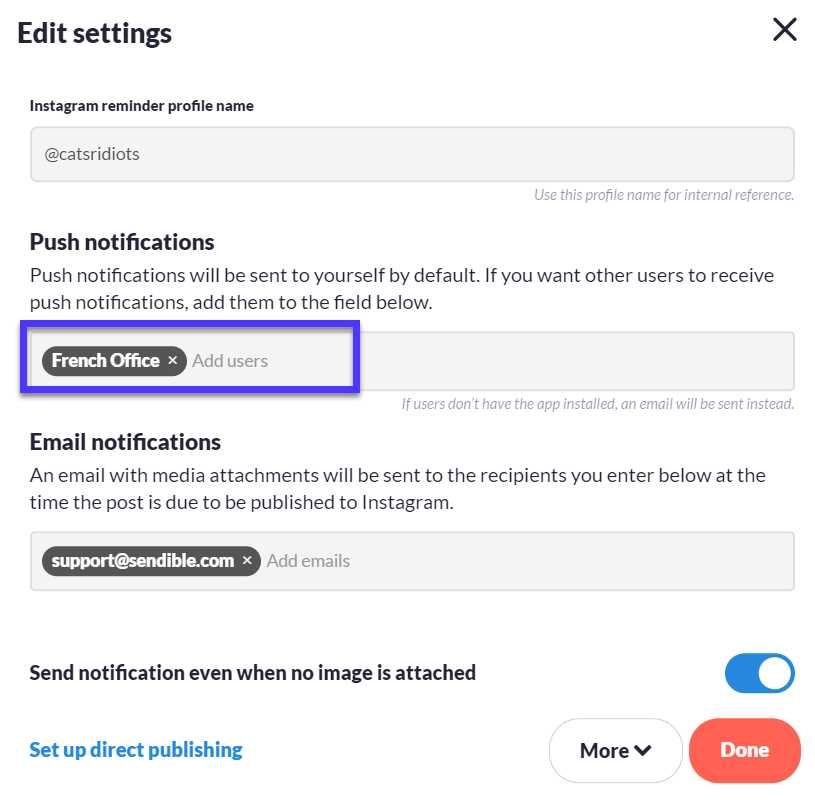 Are you using the correct Sendible mobile app?
At this time, we recommend all users use the Sendible Engage mobile app (available to both iOS and Android users) when using Instagram Reminder push notifications for the best experience. For information about this app, please view our guide: Use the Sendible Engage app
Are you logged on to the correct account on the Sendible Engage app?
You can find out which account you're logged into by:
Opening the Sendible Engage App
Clicking the menu icon on the top left
Scroll down to "Settings"
Have you tried to log out and log back in on the mobile app?
To log out please do the following:
Click the menu icon on the top left
Scroll down to "Sign out"
Click "Yes" when prompted