Why are my report modules not displaying data?
In some instances, modules in your Branded (Custom) Report might not show any data or may not have updated if you've recently had to reconnect or similar. You may also find that Quick Reports modules are not updated for the same reason.
When this happens, there are a couple of things you can do to correct this.
Note: Twitter and Instagram do not allow access to historical data, so your reports will only be able to display metrics starting from the point where the Social Profile was added to your Sendible dashboard.
General troubleshooting steps
Do you have enough activity on your social site for the data to be generated? (Custom and Quick Reports)
If there is very little or no activity/engagement at all on the relevant social channels or profiles for your selected time period, we may not be able to display data until there is enough new activity.
Please try adjusting the filter for the time period or look to generate more activity on your social account. You may want to check out our Insights blog for ideas to help you maximise engagement with your audience.
Does your profile need to be reconnected? (Custom and Quick Reports)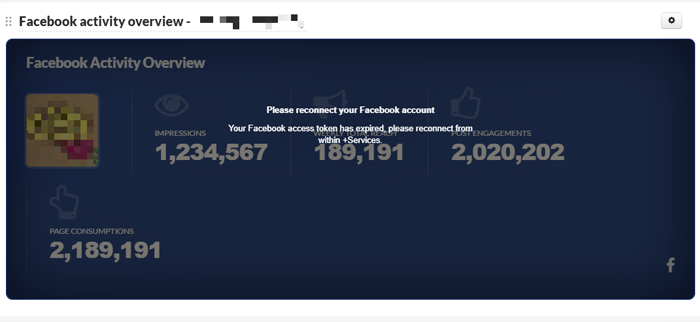 There will be an error message shown if the profile you are trying to pull reporting data for is disconnected and needs to be reconnected. A profile can be disconnected from social sites for various reasons.
To reconnect the profile, please see the following articles:
Have you added a module to your report before reconnecting the related profile or after deleting a profile you are looking to get analytics for? (Custom Reports)
If you had the module added to your report previously, and then you reconnected or readded the profile after deleting it, the module will likely not generate data or will not update its current data. This is because the module may still be trying to pull data from the disconnected or old profile.
Once you've reconnected or readded the relevant profile, please proceed to the next step.
Have you tried refreshing the module? (Custom and Quick Reports)


Sometimes you will find that refreshing the module by clicking the circular arrow icon (Quick Reports) or the refresh option by clicking on the cog (Custom Reports) will update the module.
If after refreshing the module, your module still shows incorrect data or no data at all, please proceed to the next step.
Have you tried removing the module from your report and then re-adding it? (Custom Reports)

Removing and re-adding a module should force the module to start pulling data from the correct profile if you've reconnected or readded a profile after deletion. If you are still having issues with a specific module after going through the above steps, please log a ticket using the option in the Helpdesk with a brief outline of the module/s that are not updating and the name/s of the related reports we'll take it from there.
Channel-specific troubleshooting steps
Google Analytics reports
In the case of Google Analytics Custom and Quick Reports, the account can be disconnected by Google and will show that it needs to be reconnected. This is especially likely to happen if you manage more than 10 websites within 1 Google account.
Important If you have more than 10 websites linked to Google Analytics, you would need to separate them into other Google user accounts. For example, if you have 20 Google Analytics pages you're managing, you would need to separate them equally between 2 Google user accounts.
Important If you're accessing a Quick Report for Google Analytics, it will prompt you to re-select the Google Analytics account.
To reconnect your Google Analytics account for a Custom Report, please follow the steps below:
Go to your Custom Report where you wish to have Google Analytics modules included within Sendible in Reports > My reports.
Select the module that's disconnected and not displaying data.
Remove the module from the report.
Go to Add module and select the Google Analytics tab, then click on the + plus icon next to the module you want to add.
You will be prompted to log into your Google account.
You will be asked to grant access for Sendible to your Google Analytics data. Press OK.
You will then need to select the Google Analytics account and website from which to retrieve the data. Once you click Add, the module will be added to your report.
Note: If you need to reconnect more than one module, you must go through the above steps for each module.