Why does my Facebook post say 'Posted by Sendible'?
This page addresses questions we believe users will have if this update applies to them. If you have a question that is not answered below, please use the option provided on our Helpdesk to submit a ticket.
Important: From 31st August 2020, for re-branded apps and white label plans, Facebook posts will display "Posted by Sendible" instead of the generic app Social Dashboard.
Will Facebook posts display "Posted by Sendible" or similar?
If Facebook does display the name of the Facebook app used to post, it will display "Posted via Social Dashboard".
Where does the "Social Dashboard" app direct to if someone clicks on "posted via Social Dashboard"?
If this is displayed and it is clicked on, this will direct to a generic "http://sendblur.com/" page. This is intentionally a page that does not load and is not associated with a particular company, organisation or similar.
What will display when accepting Facebook permissions for the Social Dashboard app?
Whenever the app name is referenced, whether this is when you're initially accepting the app permissions or viewing the app in the Apps area on Facebook, the name displayed will be "Social Dashboard" as shown in the image below: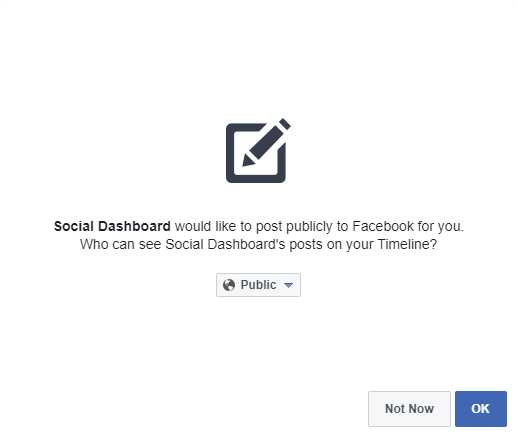 Will I still be charged for rebranded apps?
No, as this is essentially a generic app and not specific to any brand, company, organisation or similar, whilst you can use it, we will not charge you for its usage. This is because we are only retaining this as a legacy option and may not be able to support or troubleshoot issues with profiles set up via rebranded options in the future.
What will happen if I don't reconnect my Facebook profiles before the 1st of August?
If your Facebook Posting profiles have not been reconnected to run through the Social Dashboard Facebook app before the 1st of August, 2018, posts will be declined by Facebook until the profiles are reconnected.
Do I need to update anything on my end?
You will need to reconnect your Facebook posting profiles, as outlined above, once we've confirmed that the update on our end has been made.
What are the benefits of this update?
Any new features or additional functionality provided to Facebook partners will be made available to you at the same time that it is made available to all of our other users.
Will this have any effect on the posts previously posted through my custom Facebook app?
No, previous posts will stay as they are, they will not be changed in any way.