Reconnect an Instagram Professional profile
Quick Facts
You must have Admin access to the Facebook page linked to your Instagram Professional Account (under Page roles in your Facebook page Settings) to be able to post.

If you're managing Instagram Professional Accounts through Meta Business Manager, the assets need to be shared with you.

You will be able to reconnect multiple Instagram Professional profiles at the same time if you manage them under the same Meta Business Manager or Facebook profile.
Instagram Business and Instagram Creator accounts can both be connected in Sendible.
For Instagram Professional profiles that have been shared with you, you will need to switch to the dashboard that added the Instagram Professional profile(s) to reconnect them.
Step-By-Step Guide
Once you've finished reading this article, you will know how to reconnect multiple Instagram Professional (Business or Creator) profiles where they need to be reauthorised for us to continue posting successfully, retrieve analytics and view live updates. You'll want to follow the steps carefully so that you don't accidentally disconnect other Instagram profiles you've already connected to Sendible.
Note: As we update the messaging within Sendible to reflect the inclusion of Creator profiles, you may still see references to only 'Instagram Business'.
Head over to Profiles > My Profiles > Click the name of your Instagram profile > More > Reconnect to begin reconnecting your Instagram Professional profiles.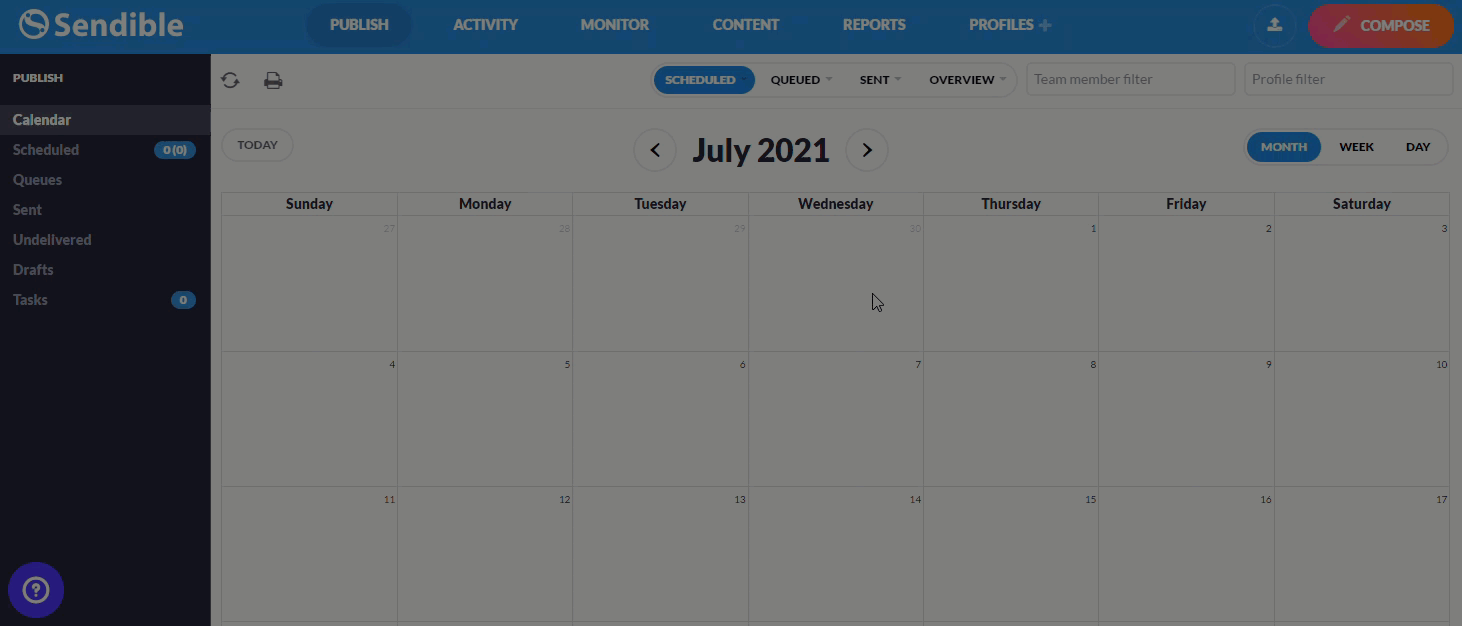 Reconnecting Instagram Professional profiles:
You will be asked to select all Pages and permissions by logging into the Facebook account with access to the relevant Instagram Professional Account that was used to add the profile. You will see the following screen; select the "Edit Settings" button.
The next series of screens, you will be given options to select Instagram Professional profiles that you have Admin access to and the permissions needed to schedule posts with Sendible.
Tip: For the best results and the strongest connection, we always recommend choosing Select All for both the Instagram profiles and Facebook Pages.
If more than one Instagram Professional profile is disconnected, reauthorising the connection to one account will automatically reconnect the other Instagram Business profiles under the same Meta Business Manager or Facebook Profile.
Editing the settings for an Instagram Professional profile:
Click on the Instagram Professional profile's name to edit the Instagram profile's settings.

Note: The character limit to update the profile name for internal purposes is 50 characters.

Click More and you can add custom tags to the profile or transfer or share the profile with another dashboard.
Still an issue?
No worries! We can take it from here.
Please submit a support ticket and be sure to mention you have gone through the typical troubleshooting steps. In addition, providing screenshots and including where you were and the steps you took when the issue happened will help us resolve it more quickly!