How to delete users or set them as inactive
There are several things to consider before you delete a user or set them as inactive, as doing so can affect both scheduled posts and social profiles. You may want to consider exporting their scheduled posts and transferring profiles from that user account to another. Transferring profiles will retain the reporting data related to that profile, but it won't automatically transfer related posts.
Quick facts
Deleting a user or setting them to inactive will cause any posts they've scheduled to

be deleted or not be published

.
Deleting a user or setting them as inactive will cause any social profiles in their 'My Profiles' area to be

unavailable

.
You may want to export any scheduled posts and then import them to a different user's dashboard.
You may want to transfer their social profiles to another user.
Caution: You will not be able to delete users set up as Admins until you edit their access. Admin-level access will need to be changed to either Client or Team Member access before the option to delete that user becomes available. Please see the article Why can't I delete an Administrator user? for more information.
You also won't be able to delete the main Admin user (the account set up when first signing up to Sendible), as this is the account that billing is linked to. Instead, please edit this user account and change it to the new admin's email and name. Please check out the article Somebody is leaving, what do I need to do in Sendible? for further details.
Important: To avoid losing valuable work, do not delete a user before 1) exporting their drafts, queued, or scheduled posts as a CSV and 2) transferring their profiles to another user.
Move their drafted, queued, and/or scheduled posts
If the user account you're about to delete has posts you'd like to keep, you can export them into a CSV file and then import them into a different user's account to post from there.
Exporting can be done by clicking the checkbox in the upper-left corner to select all the posts that have been loaded (you may want to scroll down to load what you need into the dashboard) and then select the Export to CSV option from the More list.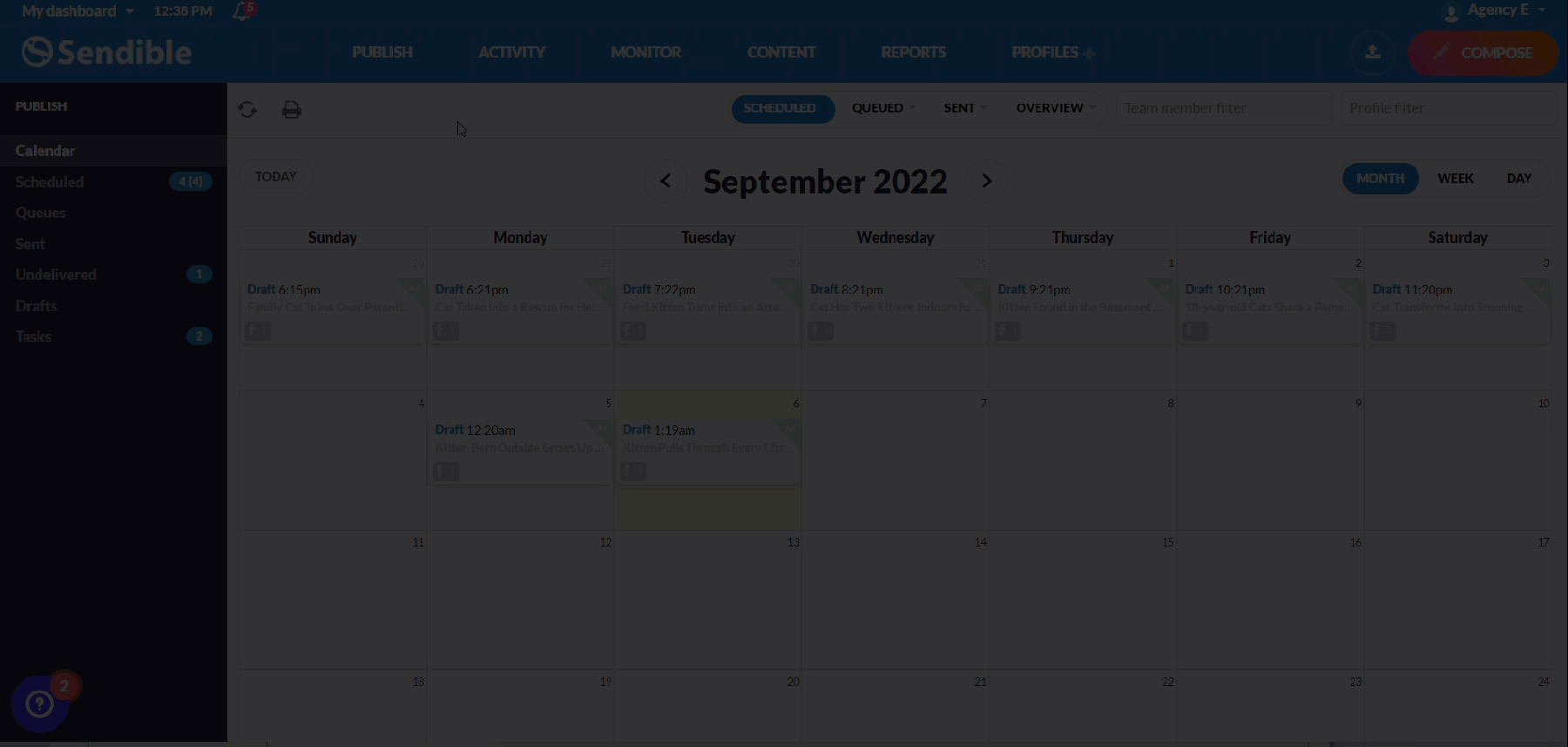 Tip: We recommend selecting each profile in the related filter and exporting CSV files for individual profiles so that you can easily re-import them for each profile while bulk importing.
Tip: If you have a lot of posts to export, it can help to filter the list for specific time periods and export them as groups, eg., monthly.
Once you've exported the posts and transferred the related profiles from one user to the other, you can then re-import the posts using the bulk importer.
Tip:
You may also want to see what other data you can export (
Drafts, Queues
, etc.) from the
Download Data
section of the
Reports
area of your dashboard. Check our support article,
Export report data as a CSV or HTML file
, for more information on what data you can save from the user account you're about to delete.
Transfer their profiles
Any social profiles you want to retain access to should be transferred to a different user by following the steps outlined in the article, Transfer and share profiles. This is especially important when it comes to profiles that have been gathering reporting data, as all reporting data for that profile will be lost, and you will no longer be able to generate a report for that social profile.
Set a user as 'Inactive'
Click on your Username on the top right-hand side of the dashboard.
Select Manage Users from the drop-down menu.

Click on the Edit option opposite the user account you wish to deactivate or delete.

To deactivate a user, toggle to the Inactive option so that it turns blue.
Then select Update User.

Caution:

There are some consequences to setting a user to 'Inactive' that you should be aware of.

Scheduled posts will appear in the Sent view and not in the Undelivered view, but they will actually not be published to the social profile.
Any profiles in the My Profiles area of the inactive account which are shared with other users - those profiles will still be available to the other users, and any posts scheduled through those users to those social profiles should publish successfully.
Any reports scheduled by the inactive user will not be sent out.

Note:

Inactive users will still count towards your user allocation and, therefore, still be included in your subscription charges. (Please see

this page

for more information on user allocations.) However, these users will not be able to log in, and you will not be able to access the account to

switch

to it, see the account's scheduled messages, etc., until the account is set to active again.

Tip: As an alternative, if you do not wish for an individual to be able to access their account (for example, if someone leaves the company), an Admin can change the email address and password for the account instead in the user settings window.
Delete a user
To delete a user, select the Delete User option instead.
When a confirmation window pops up, click Yes.
Deep dive video