What do I need to complete before downgrading my account?
If you're planning to downgrade your account, you'll need to confirm that you do not exceed the limits of the plan that you're attempting to downgrade to. If your account currently exceeds the limits of the lower plan, you will be unable to complete your downgrade.
Note:
For the most up-to-date information on the features available with each plan, please view our
pricing page
The following features have plan limits and may need to be removed before a successful downgrade can be completed:
Users
Profiles
Custom Reports
Permission Groups
Queues
Custom Approval workflows
Deleting Users
Click on your Username on the top right-hand side of the dashboard.
Select Manage Users from the drop-down menu.

Click on the Edit option opposite the user account you wish to delete.

To delete a user, click the Delete User option.

When the confirmation window pops up, click Yes.
Deleting Profiles
You can see how many profiles your account is currently using on the right side of the Manage Users Page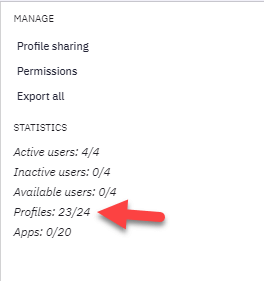 Tip: This number tracks profiles added across all the users in your account. If you see the number on Manage Users is higher than what you see in 'My Profiles', this is because My Profiles shows the number of profiles that specific user has added. The other profiles that make up the higher Manage Users number are added under other user accounts.

You can switch between users by clicking My Dashboard in the top left corner.
To lower the number of profiles in your account before you can complete your downgrade, you'll need to delete some. You can delete profiles by clicking Profiles > My Profiles and then clicking the
icon next to the Profiles that you no longer need. When deleting a Profile you will receive a warning box asking you to be sure you want to completely delete it.

Note:
Deleting a profile will delete historical reporting data and other information, please see the following guide for more details
Edit and delete existing profiles
Deleting Custom Reports
You may also need to delete custom reports when looking to downgrade as the plan you're downgrading to may provide a lower number of custom reports than your current plan or will not have access to this feature at all meaning all custom reports would need to be deleted before you can successfully downgrade.
You can delete the report under the My Reports area by clicking on the
icon as shown below.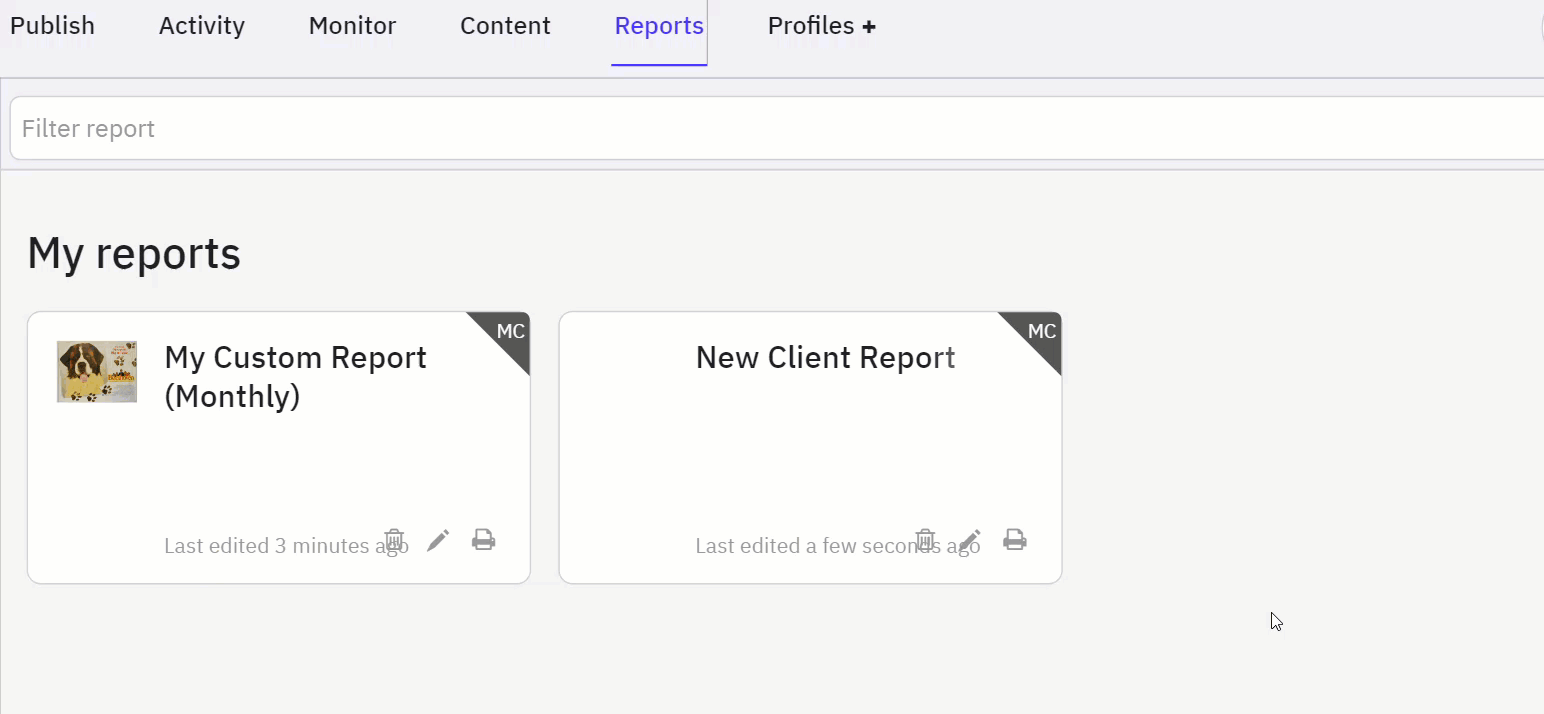 Tip: As with Profiles, you will want to check the other users in your account to confirm they do not have any additional Custom Reports set up. You can switch between users by clicking My Dashboard in the top left corner.
Removing Permission Groups
From the Manage Users page, select Permissions from the right side
If you have any permission groups set up, you can delete them by clicking on the icon. When deleting a permissions group you will receive a warning box asking you to be sure you want to completely delete it.
Deleting Queues
To delete a Queue, click the arrow to the right of the edit icon next to the name of the Queue you wish to delete and the delete option for that Queue will be displayed.

Removing Custom Approval Workflows
Custom approval workflows are not available on our lower plans. To confirm each user no longer has any set up, please navigate to Manage Users and click the Edit User button.
On the Workflow tab, confirm or edit the user so that the setting is set to No.