Why is a link preview not being created?
There are a number of reasons why a link preview might not be created when you add a link to the Compose Box or when you're bulk importing messages.
The site has blocked hotlinking
Some sites prevent other sites from retrieving content from their site as this increases the amount of bandwidth used on the site being linked to. This then prevents our system from being able to pull through the information needed to create a link preview.
This is rare with smaller sites as sharing of links and content is a way for their site to be promoted. However, some large sites, especially news sites, can block this as the amount of bandwidth needed to support this can be very high.
You can use tools to check if the site you're linking to is hotlink protected by using https://altlab.com/hotlinkchecker.php.
The link you're including is a link to a social site
Similar to the above, most social sites do not allow you to link back to a post or similar on a social site. Some social sites such as Facebook can block these messages from time to time. However, most will post the message but as they generally do not allow us to retrieve the information in order to populate the link preview, it's unlikely a link preview will be included in this case.
The link is to a document not generally supported by social sites, e.g., a PDF
Most social sites do not support document types other than images or videos so even if you have a link to this type of document that can be accessed by anyone, unless there is HTML or other information that can be used to pull information for a link preview (which is generally not the case with documents) generating a link preview is generally not going to be possible in this case.
You should be able to create a custom link preview from an attached image as outlined on this page, however, we cannot guarantee that this will work either.
You're bulk importing messages but have not set default link preview options on the related profile in Sendible
Due to the amount of time it takes to pull through data and populate link previews, Sendible only creates link previews by default for the first 15 posts if you do not have the option directly set on the related profile for link previews to be created. You can set Facebook Page posting profiles to automatically generate link previews, for example, and in these cases, link previews will be included in all posts you've imported which will be sent out via these profiles.
The page you're linking to has an overlay
An overlay is a content box that appears on top of a page and obscures the background content such as the example below.
They can also be called website popups, lightbox popups, modals or lightboxes.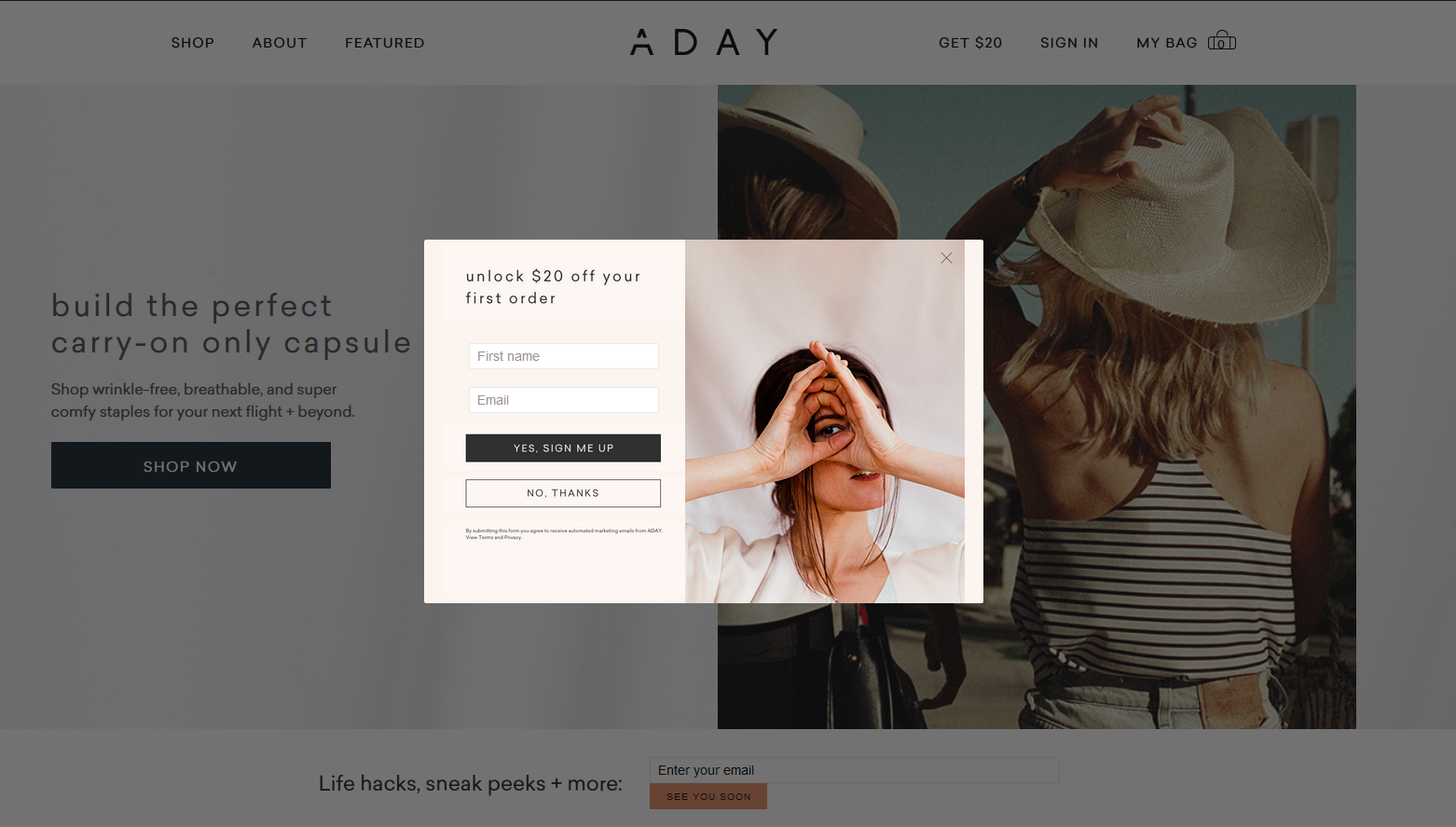 Overlays can prevent the HTML of that page from being accessed and that HTML information is needed to populate the link preview, e.g., the relevant description and image to include in a link preview.
Overlays often display a few seconds after the page is accessed. Because of this, it's more likely that you'll experience issues with pages that have overlays if your links are being shortened.
This is because we will first shorten the link and then look to pull the information for the link preview. If the link is not shortened first there's usually enough time to pull the relevant information before the overlay interferes. 
Therefore, if it looks like an overlay is interfering with a link preview, try setting your Preferences > Publishing Preferences > Default URL shortener to 'Don't Shorten' before composing your message and the link preview should generate.
Why is my Twitter post not displaying a link preview?
This often happens when the profile settings for a Twitter profile has the setting 'Post with images' enabled for 'How link previews should be posted':

If the option to 'Post with images' is selected, our system will attempt to extract an image from the URL and add it to the Tweet. If you attach an image to a post, it will always take precedence over a link preview or a Twitter Card because you can only have an image or a link preview (which includes an image) but not both.
You should change this setting on the Twitter profile to 'Ignore images' and this will ensure that you have a clickable link preview.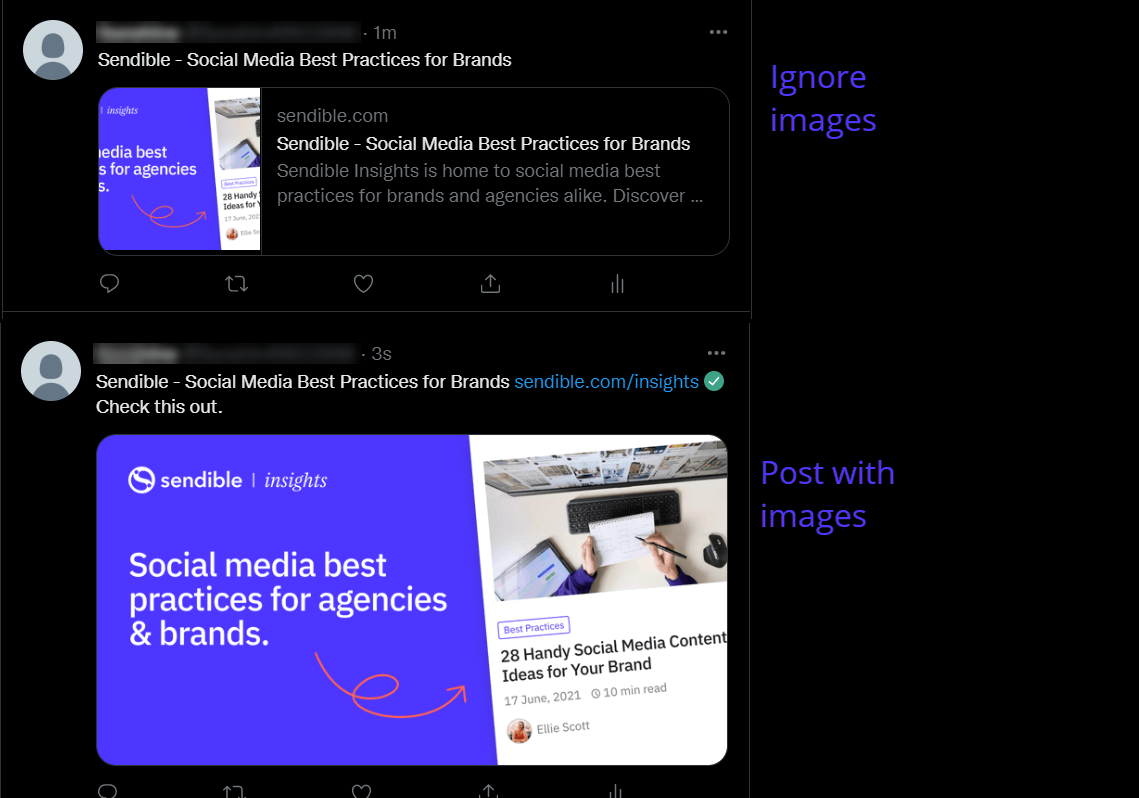 To do this please go to Profiles > My Profiles > Edit the Twitter profile > Ignore images and click the Update Account button: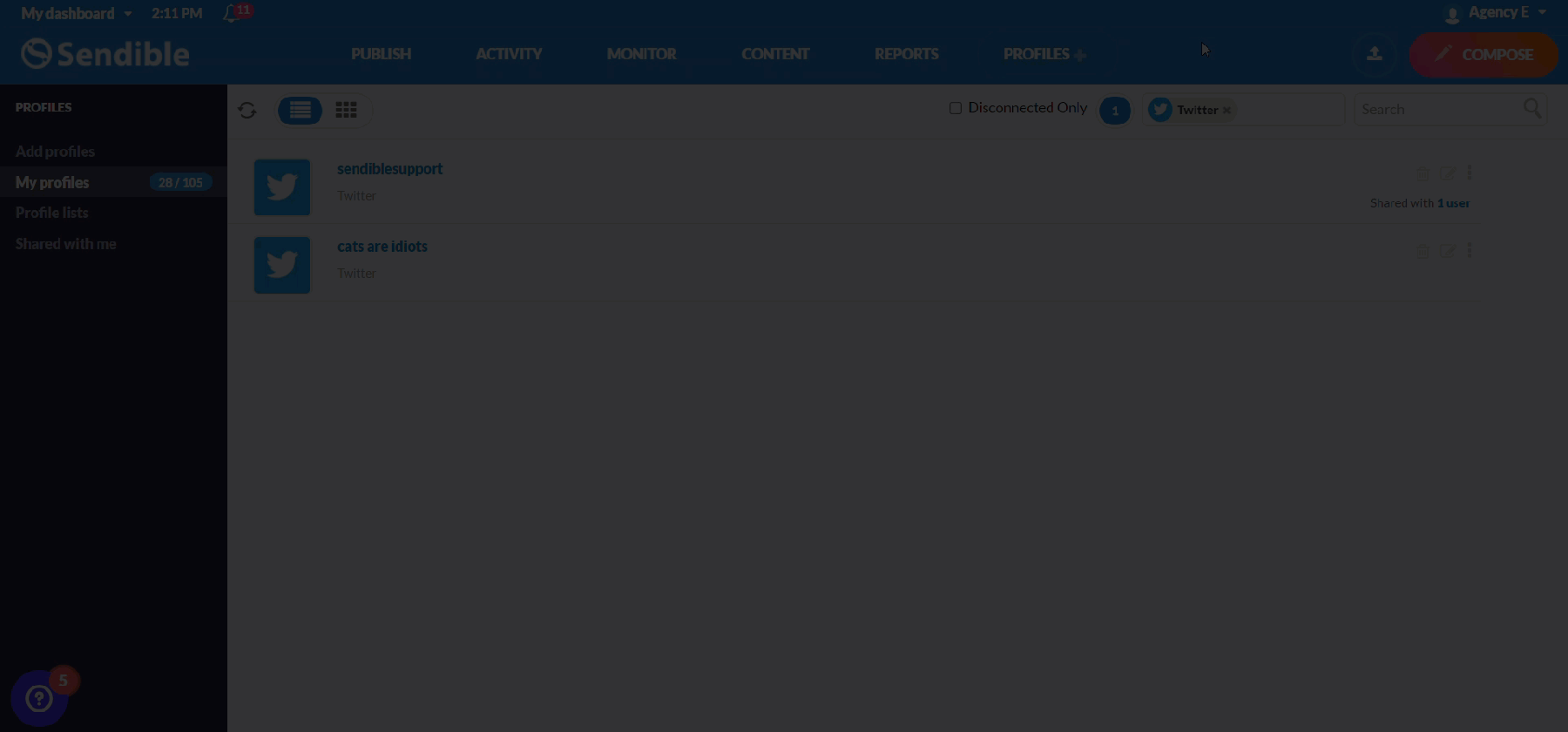 Facebook and Bitly links
This is an issue that can occur when posting a Bitly link to Facebook. While the preview within Sendible looks fine, when posted to Facebook a "Bitly | Forbidden | 403" error is displayed.

The 403 error is a known issue with Bitly links on Facebook, and it appears to be caused by the fact that the specific URL hasn't been crawled/scanned by Facebook before.
Bitly has a support article that describes this issue here: Why did my link result in an error when I posted it on Facebook?
If you post the link once, or crawl the Bitly link manually before or after the post has gone out, the link preview should display as expected. To crawl your URL, please go to https://developers.facebook.com/tools/debug/, paste in the URL there, and click on "debug". Facebook will then scan that URL and prevent the link preview from displaying the 403 error.
Unfortunately, as this appears to be an issue between Bitly and Facebook, the best options we recommend to avoid it are:
Turning off the Bitly link shortener will resolve this issue.

Note: Turning off the Bitly shortener is a per-user setting and not a per-company setting. We will also be unable to report on clicks for non-shortened URLs when viewing your Quick Reports.

Manually crawl the URL before posting the link using https://developers.facebook.com/tools/debug/.
Still an issue?
No worries! We can take it from here.
Please submit a support ticket and be sure to mention you have gone through the typical troubleshooting steps. In addition, providing screenshots and including where you were and the steps you took when the issue happened will help us resolve it more quickly!