Schedule a TikTok post
Are you ready to publish a TikTok video?
TikTok has taken the world by storm with its viral content and engagement rates, making it one of the most popular social media platforms today. With Sendible, you can plan and post your content at the optimal time to reach the most significant audience and gain the most likes, views, and followers.
Get started today and experience the magic of TikTok scheduling!
Quick facts
You can post to TikTok business accounts as well as TikTok personal accounts
Each post can only have one video attached to it
TikTok posts have a 2200 character limit
TikTok posts can only use original audio due to API restrictions
It is not possible to use the Canva or Giphy integrations with TikTok
TikTok will not appear in the Priority Inbox or Social Feeds views
No reporting is available for TikTok
You can choose a custom cover photo or thumbnail for TikTok posts
Currently, TikTok (Photo Mode) photo scheduling is not allowed due to API restrictions
TikTok's "Promote" feature is not available, but you can schedule and publish the post to TikTok, and thereafter, you can add the promote option directly on TikTok
Important: Your video must be more than 3 and less than 60 seconds long (we recommend no more than 59 seconds). Ensure that your video meets all the requirements as outlined in the following article: Best practices: Social platforms' video guidelines
Important: Personal creator accounts: These profiles have access to a collection of trending, unlicensed sounds. However, using unlicensed music on TikTok as a business carries the risk of legal action.
Business accounts: Have access to sounds with commercial licenses. If you're a business using this sound library, there isn't any legal risk. Even if business accounts can't access all sound bytes, brands should remain with a Business Account.
Step-by-step guide
Click on the Compose Box.
Select your TikTok profile.
Attach your video and a description. Although you don't have to include a description, you must upload a video to publish to TikTok.
Choose if you allow users to comment, Stich, or Duet.
When your video has been uploaded, click the Schedule button, select a date, or choose the Queue option. You can also use the Send Now option to send the posts immediately.
You're ready! Your post will automatically publish to your TikTok account at the time and date you specified.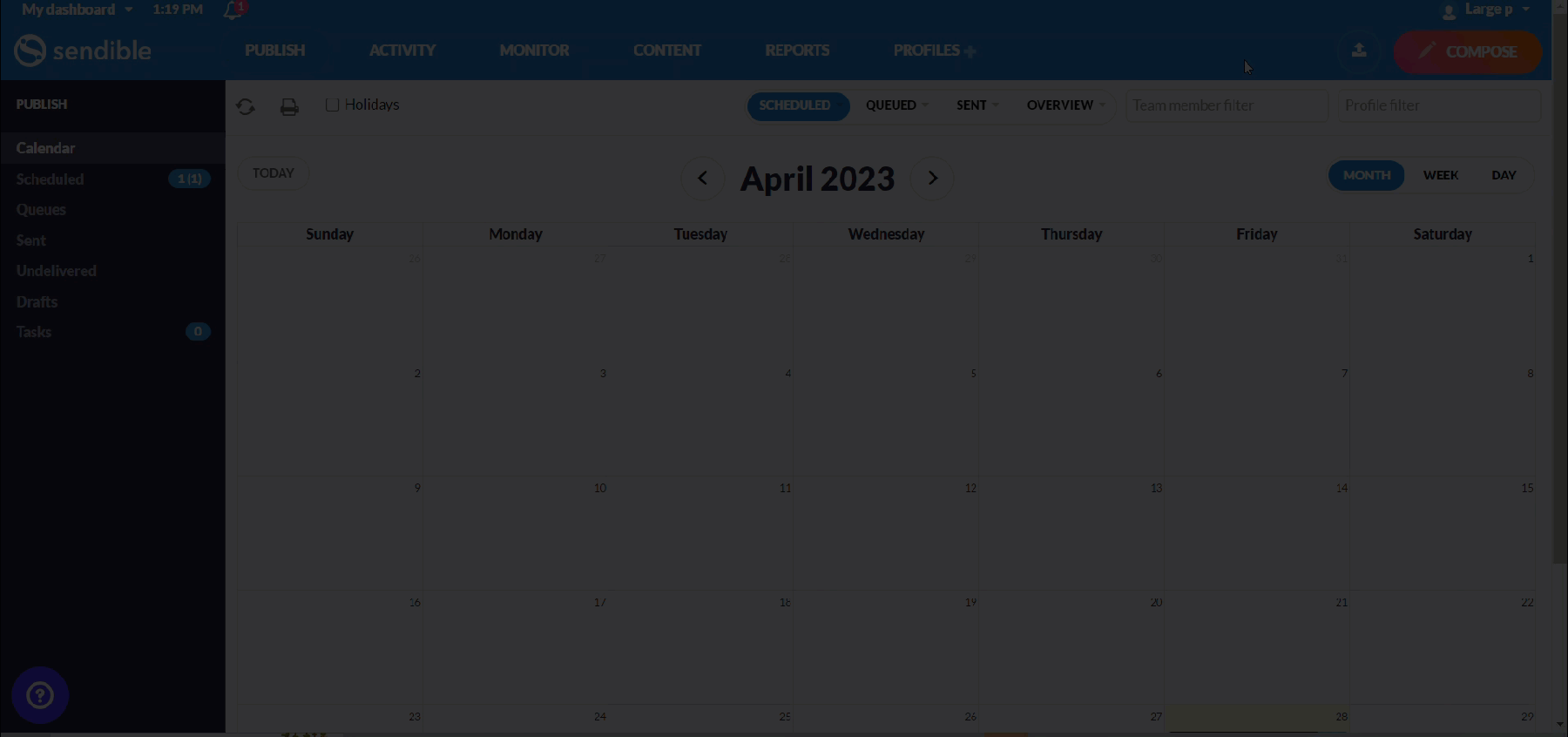 Caution: Posts on TikTok are processed in 2 to 30 minutes. If processing is successful, your post will appear on TikTok; otherwise, you will receive an undelivered message.
Tip: Despite similarities between Stitching and Duets, there are a few significant variations: Duets play simultaneously side-by-side (or picture-in-picture) while Stitches are displayed in order, starting with the original clip and ending with your recording.
Still an issue?
No worries! We can take it from here.
Please submit a support ticket and be sure to mention you have gone through the typical troubleshooting steps. In addition, providing screenshots and including where you were and the steps you took when the issue happened will help us resolve it more quickly!